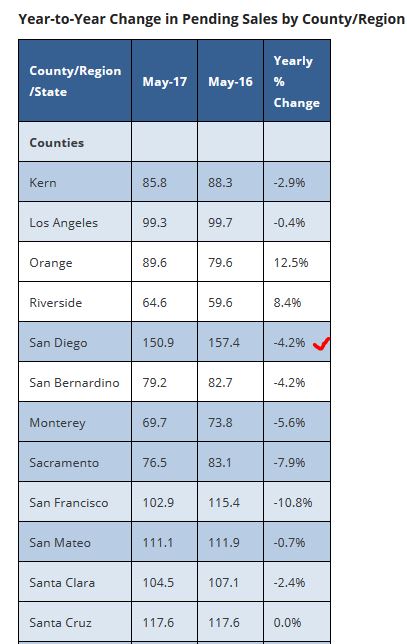 We've had it so good for so long, we're bound to have some bouncing around. Our cheerleaders want to make it black and white = sales down, prices up:
California pending home sales stumble for fifth straight month in May
LOS ANGELES (June 28) – Even with a strong performance in May closed escrow sales, California pending home sales fell for the fifth consecutive month, suggesting the state's housing market may underperform over the next few months, the CALIFORNIA ASSOCIATION OF REALTORS® (C.A.R.) said today.
Along with the decline in pending sales, REALTORS® are more cautious due to their growing concern over supply and affordability issues, C.A.R.'s May Market Pulse Survey** found. REALTORS® also saw fewer floor calls, and less open house traffic than in April.
Pending home sales data:
• Based on signed contracts, year-over-year statewide pending home sales fell for the fifth straight month in May on a seasonally adjusted basis, with the Pending Home Sales Index (PHSI)* declining 3.9 percent from 123.0 in May 2016 to 118.1 in May 2017. On a monthly basis, California pending home sales increased 3.9 percent from the April index of 113.7.
• Despite a bounce back in May closed escrow sales, the downward trend in pending sales suggests the housing market may underperform over the next few months. With interest rates expected to rise in the second half of the year, the sales momentum could slow further or even shift in the third and fourth quarters.
• The Southern California Region reversed a three-month decline and posted a 1.3 percent improvement in pending sales from the previous year, aided largely by healthy gains in Orange and Riverside counties, which marked increases of 12.5 percent and 8.4 percent, respectively. Pending sales in San Diego, San Bernardino, and Los Angeles counties declined from last May, but those counties had drops of less than 5 percent.
• The Central Valley also posted a slight gain in May, increasing 2.1 percent. With many counties in the region falling behind last year, pending sales in the region as a whole would have declined year over year if not for solid sales in Fresno, which increased a robust 28.6 percent from last May. Kern County saw pending sales slip by 2.9 percent from May 2016.
• On the flip side of the coin, the San Francisco Bay Area experienced a decline in pending sales in May, falling 5.5 percent on an annual basis. Pending sales in San Francisco County declined the most at 10.8 percent, and San Mateo and Santa Clara counties posted pending sales decreases of 0.7 percent and 2.4 percent, respectively as inventories remained extremely low and median prices exceeded $1 million.
• In C.A.R.'s newest market indicator of future price appreciation, Market Velocity – home sales relative to the number of new listings coming on line each month to replenish that sold inventory – continued its upward momentum in May, suggesting that home prices should grow further in the upcoming months. Solid demand motivated by low interest rates, coupled with tight supply, put upward pressure on prices in the last few months as the home buying season remained competitive. The statewide median price should remain near its recent high until late summer or early fall. Market Velocity is strongly correlated with increases/decreases in price growth with a roughly three- to six-month lag time.