From realtor.com:
"With a record number of home buyers out there, this is officially the most competitive, fastest-moving spring housing market in decades," said Javier Vivas, manager of economic research at realtor.com. "Following a furious start to the season, the median days on market for homes on realtor.com in May is the lowest since the end of the recession, and marks the first time that 1 in 3 homes is selling in under 30 days nationally."
The median age of properties on realtor.com in May is 60 days, which indicates that properties are selling five days (8%) faster than this time last year, and two days faster than last month.
"The lack of affordable inventory remains a critical issue, particularly for a growing number of first-time home buyers and millennials lining up for starter homes and urban dwellings."
So where in the U.S. are things the craziest—those places where homes fly off the market the fastest, and buyers are up all hours, clicking on listings? When we pulled together this month's list of the hottest markets in the country, the top markets were a one-two punch for the Bay Area, with San Francisco (including nearby Oakland and Hayward) at No. 2 and Vallejo, just to the north, at No. 1.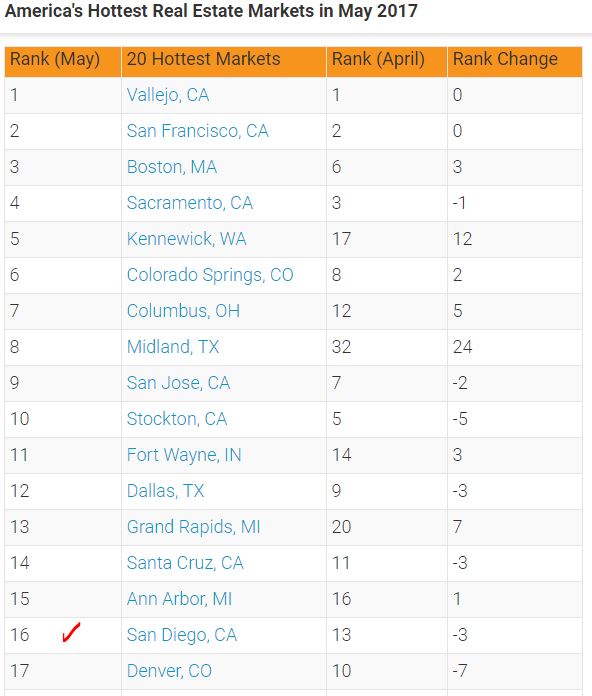 I don't think a faster-moving market is crazy – instead, the tight inventories have caused us to naturally evolve to quicker pace.  It's not just the buyers – agents, lenders, appraisers, and inspectors all move faster now, and you could say, 'it's about time'.
Words like 'craziest' are just headline porn – the market evolution is on track.
Is there a potential benefit to slowing it down?
Agents dig the face pace – buyers and sellers have less time to think, and deals close quicker so we can get on to the next one.
How would sellers and buyers benefit from slowing down the process, and how could it happen?
Imagine if we eliminated the 'Coming Soon', 'Sold Before Processing', and other ways that agents wrongly tilt the table.  Instead, we adopt an industry-wide standard process for selling homes so everyone has a crack at buying each house.  After all, shouldn't that be in place already?
If everyone knew that the seller would pick the buyer on Friday afternoon (or some other deadline), then we'd have an open, honest, and predictable marketplace.  If we added a open bidding process at the deadline, the resulting transparency would help even more.
The frantic running-around today is from agents abusing the system, which causes buyers to pull their hair out every time they lose a property unfairly.  They are determined to get the next one, no matter the cost, because they abhor the way they are treated.
You could say that the realtors' unethical behavior that has helped to create the frenzy does benefit the sellers.  Most will say that as long as sellers benefit, then all is good.
But is it a long-term solution?
We will eventually run out of buyers who are willing to put up with this environment.  Then what, another dip?  Great.
The conversion to The Slow-Down Plan outlined above (adopting a industry-wide process for selling homes) is our soft landing.  If we continue at a break-neck speed with no solution in sight, won't we crash….again?