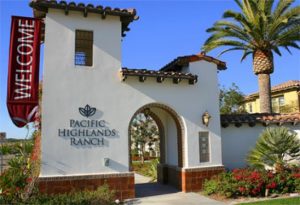 A reader asked if there has been an influx of investors around Carmel Valley.
Buying an investment property is worth considering.  Money sitting in the bank couldn't be more idle, and the rents around the 92130 have been averaging $2/sf, which is pretty strong.  We've heard that big investor groups have been active around the country – are they making a local push?
I checked the tax records of the 44 homes that have sold over the last 12 months in Pacific Highlands Ranch.  These are primarily the detached homes with small yards selling in the $900,000s near Del Mar Heights Rd. and Carmel Valley Rd.
Of the 44 sales, only three had a mailing address that didn't match the property address – a good sign that recent buyers have been mostly owner-occupants.  Only two of the 44 paid all-cash too, and there were no corporate or partnership names as buyers either.
The combined HOA/Mello-Roos payments of $500+ per month probably prevent a decent cash flow for rentals that are financed.  I doubt that Pardee or Taylor Morrison are encouraging investor buys either, so there are hurdles that would cause investors to look elsewhere.
But if they aren't buying resales at the lower end of one of the hottest areas in the county, then their impact on the market elsewhere is probably limited too.
The owner-occupant buyers are willing to pay more money because they seek the additional value of securing a newer home in the best school district to raise their family.  Investors aren't going to pay more than owner-occupants any time soon.
As much as we'd like to believe that there could be nefarious actions at work to undermine our local real estate market, the more I look at it, the more it seems like we're enjoying an environment driven by owner-occupants seeking a quality place to live long-term.