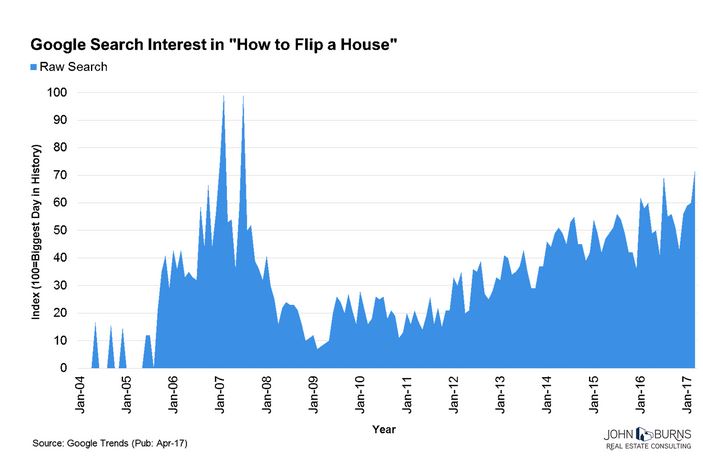 From our friends at John Burns Consulting, who have been very diligent in their reporting of market conditions over the years:
Once again, we have completed our annual housing bubble check-in. Assessing the criteria that 73 industry executives identified in 2013, we found three qualitative signs of a bubble, two signs of a mini-bubble, and five signs of no bubble. Click here to see our infographic Top 10 Signs of a Market Bubble. Every month, we analyze the quantitative stats in our analysis of 70+ MSAs for our research subscription members. We have concluded that affordability in some markets is the only sign of a bubble that we can find.
Our view on the 10 qualitative stats follows:
3 Bubble Signs
Reality TV. While home builders aren't giving away free houses every

Sunday

night like they were on Extreme Home Makeover (ABC) in 2005, shows like Flip or Flop (HGTV), Home Free (Fox), and Deed (CNBC) have been captivating audiences recently. House flipping has become a big business fueled by hard money loans made by non-banks, and Flip or Flop just announced its expansion to five new cities.
Booming real estate careers. NAR membership has rebounded strongly, pushing near-2005 levels despite far fewer transactions than in 2005. On a recent flight to the hot Portland housing market, one of our team members overheard the flight attendants discussing getting their real estate license. See the chart below.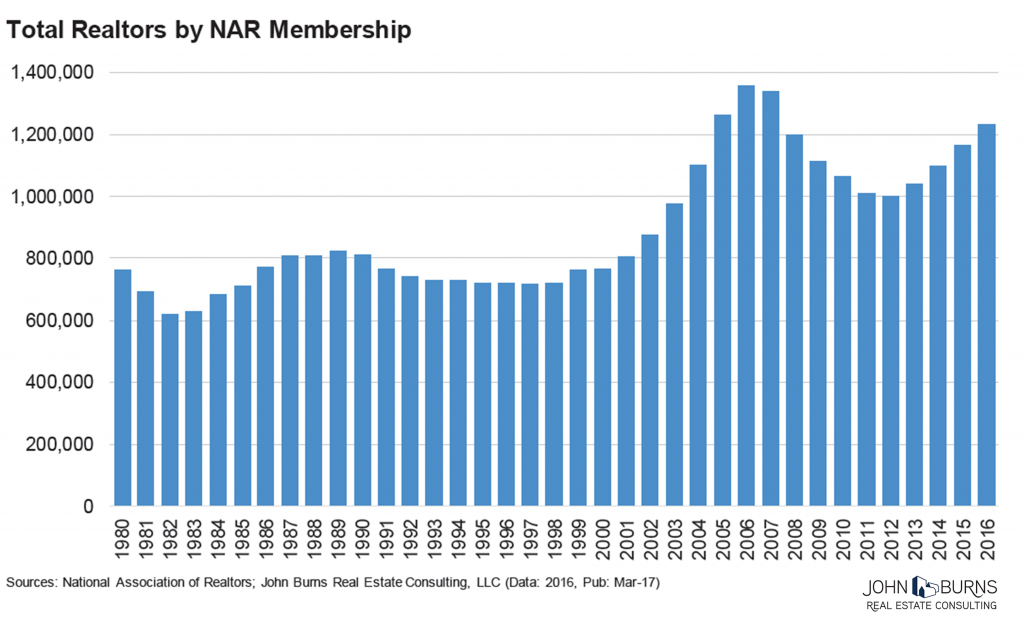 Creative mortgages. Headlines around excessive mortgage documentation and fewer loans to low-credit borrowers mask what is really going on in the market. Per AEI, 56% of borrowers put down 10% or less of the purchase price, and 35% have debt service above 42% of their gross income. Lending is clearly not as aggressive as in the 2005–2007 period, which resulted in a 19% default rate. But it is far more aggressive than in the early 1990s, which would have had only a 6% default rate during the last downturn. Today's loans would have a 12.2% default rate under the 2007 downturn scenario.
Read their full report here:
https://www.realestateconsulting.com/only-a-few-bubble-signs-brewing/