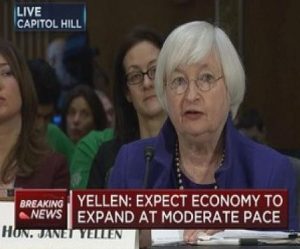 Home sellers should get on their horse.
Janet Yellen just gave the markets a wake-up call — the Federal Reserve does intend to raise rates three times this year, and possibly even in March.
Bonds sold off and their yields jumped as traders reacted to the Fed chair's vague statement that the central bank will likely need to raise rates at an upcoming meeting and that "waiting too long for accommodation would be unwise."
"She's less cautious, that's for sure," said John Briggs, head of strategy at RBS. He said her comments and tone reinforced the Fed's forecast for three rate hikes, even if she did not exactly speak to it.
"Normally, Yellen talks about downside risks," said Briggs. "She just talked about the upside risk."
Stephen Stanley, chief economist at Amherst Pierpont, noted Yellen dropped concerns about the economy in her comments.
"This turns on its head the default stance of Yellen and the doves for the last several years. … What she said today is that the economy currently justifies further rate hikes unless something changes. I view that as a low bar to rate moves. And note that she uses the phrase 'at our upcoming meetings,' which very clearly puts a March rate move on the table," he wrote.
The two-year note yield jumped to as high as 1.25 percent from a low of 1.18 percent earlier in the day. The 10-year yield rose to 2.50 percent from 2.43 percent before her remarks were released.
Yellen was testifying before the Senate Banking Committee on the economy and policy.
Traders had been ruling out the possibility of a Fed rate rise in March, and most Fed watchers expect the next hike to be in June. After the central bank's last meeting statement, the odds for a March hike dropped even more, as they did when the last employment report showed weak wage growth — meaning low inflationary pressure.
But traders were specifically watching Yellen on Tuesday for any hints about the timing of a rate hike, since the Fed will push three through in the second half of the year — a relatively rapid rate — if it doesn't move before June.
During the testimony, she was pressed on rate hike timing. "I can't tell you exactly which meeting it would be. I would say every meeting would be live," said Yellen.
"It's our expectation that rate increases this year would be appropriate," she said.
Fed funds futures showed odds of 23 percent for a March hike after Yellen's comments were released. It had been 16 percent earlier, according to Jefferies. May odds rose to 50 percent from 38 percent and June rose to near 100 percent.
Goldman Sachs economists raised their odds of a March rate hike to 20 percent from 15 percent.
"She's being more balanced rather than overwhelmingly dovish and consequentially means it's broadly hawkish," said Ward McCarthy, chief financial economist at Jefferies.