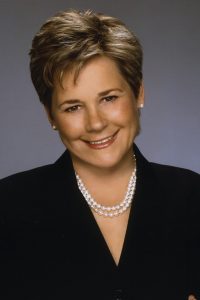 Leslie Appleton-Young, vice president and chief economist, California Association of REALTORS® (C.A.R.), recently delivered her annual "2017 Housing Market Perspectives" presentation to a group of local REALTOR® members.
"It may be a bumpy ride, but I believe there will be enough sales in San Diego County in 2017 for everyone to have a great year," she said. "San Diego is outperforming the state and California is outperforming the nation. Although 2017 started with a bang with higher consumer confidence, there is still uncertainty and wildcards in such areas as trade, healthcare, immigration, federal funding and interest rates. An economic boost is good for housing in the short run, but some federal policies could exacerbate affordability problems."
Under President Trump, proposals include an economic stimulus package and tax reform. Appleton-Young said the $550 billion planned in infrastructure investments over 10 years to rebuild highways, bridges, tunnels, airports, schools and hospitals will boost economic growth and create more jobs.
"At full employment, wages will start to rise and wage growth will typically be passed on to consumers, which means the potential for higher inflation," she said. "Unemployment rates are near an eight-year low. More jobs will mean more housing demand and upward pressure on home prices. Affordability will remain an issue and we shouldn't expect much in terms of new supply."
Appleton-Young also said overhauling the current tax code will create more demand for housing at a time when supply already is tight. She said Mr. Trump has proposed reducing the top tax rates for individuals from 39.5 percent to 33 percent and for corporations from 35 percent to 15 percent, as well as eliminating tax brackets from seven to three. Additional planned tax reform measures include a child care deduction, eliminate federal estate and gift taxes and tax breaks to manufacturers for plant and equipment expansion.
"The mortgage interest deduction (MID) will remain intact, although a smaller MID incentive could threaten ownership," Appleton-Young said. "The MID is good for people's pocket books. Historically, people don't save unless they have a home."
In addition, reforms to Fannie Mae and Freddie Mac are likely under a Trump administration, said Appleton-Young. "Banks will loosen lending standards, increase mortgage options and lower the credit score requirements," she said.
The Federal Reserve raised interest rates only once in 2016, Appleton-Young said, but rates could increase three or four times in 2017, pushing mortgage interest rates as high as 4.5 percent or 5 percent for a typical home loan. Historically, when mortgage rates increased, the percentage of California households able to afford to buy a home dropped from 34 percent in 2010 to 21 percent by the end of 2016, and monthly mortgage payments increased from $1,740 to $2,609 in the same time period.
Appleton-Young also offered a caution to REALTORS® about posting political statements on social media because some potential clients might reject a REALTOR® based on their political leanings. Good questions to ask before political-related posting: Do I have the correct facts? Does this need to be said? Why do I need to be the person to say this? Could I be misunderstood? What are my motives for saying this? Can this wait until tomorrow when I might be thinking in a clearer manner?
Prior to her group presentation, Appleton-Young met privately with a group of brokers who noted an ongoing trend in higher monthly rents for apartment living. A recent report shows San Diego has the fifth highest apartment rental rate in the state, with a typical one-bedroom unit going for $1,530 a month. The report by Apartment List, an online rental marketplace, found that local rents grew 0.1 percent in January, which is 1.9 percent higher than a year ago. San Diego is still lower than other rents in the state. Rents are highest in San Francisco, where a one-bedroom runs $3,420 a month, followed by San Jose at $2,110, Oakland at $2,000 and Los Angeles at $1,870. The U.S. renter population is about 44 million households or 37 percent of all households in the nation. Apartment List's data is drawn monthly from millions of listings nationwide on its site.
Also in the brokers meeting, it was noted that U.S. News & World Report recently revealed its "Best Places to Live in the U.S. in 2017" list of top 25 metro areas that offer the best combination of jobs, desirability, cost of living, quality of life and more. San Diego is ranked #22. "What San Diego lacks in affordability, as one of the most expensive metro areas on the list, it makes up for desirability," the magazine said. "San Diego's beautiful beaches and laid-back vibe make many Americans wish they lived there." The top 5 places were: Fayetteville, Ark. (#5); Washington, D.C. (#4); San Jose, Calif. (#3); Denver (#2); Austin, Tex. (#1).
Appleton-Young directs the activities of C.A.R.'s Member Information team. She oversees the analysis of housing market and brokerage industry trends, broker relations and membership development activities. She also is closely involved in the Association's strategic planning efforts and is a well-known speaker in California's real estate community. She earned a bachelor's degree in economics from the University of California Berkeley and a master's degree from the University of Pennsylvania. C.A.R. is a statewide trade organization with more than 180,000 members dedicated to the advancement of professionalism in real estate.