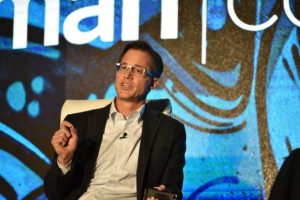 By now we have all heard how robots will be supplanting humans and taking everyone's job in the near future.  What about realtors?
Rich Barton had thoughts on the topic this week:
NEW YORK — Robots may be taking over the world. But they won't eliminate real estate agents — at least not anytime soon.
That's the message from Zillow co-founder Rich Barton, whose 10-year-old Seattle company transformed the real estate business by unlocking massive amounts of data about individual homes. Could artificial intelligence — AI-powered robot agents — be the next wave in real estate?
"I choose to believe that all (artificial intelligence) is an enhancement, not a displacement. Just pick your industry," said Barton, speaking at the Inman Connect real estate conference in New York this week. "We do like to see the end of the world in every new technology that emerges, but, in fact, the truth is every new technology that has emerged has enhanced humanity, and created new kinds of jobs that are much better and safer than the factory jobs or whatever jobs were being displaced."
http://www.geekwire.com/2017/robots-real-estate-theres-nothing-see-zillow-co-founder-says-agent-jobs-safe/
He chooses to believe it when he is speaking in front of a large group of realtors and his Zillow is king of the hill.  We'll see what he says once the Broker Public Portal is launched, and realtors try to deny Zillow access to listings, which is inevitable – the only other choice to compete with Zillow is to spend the same $100 million on advertising, which we're not going to do.
My guess is that Zillow will develop their own AI, or buy a company that does it, and then sell it to their top-spending agents.  We'll have a realtor civil war – Zillow Teams (Zillow & big-spending realtor teams) vs. BPP/Big Franchises.
The big-box franchises will have to side with the BPP in order to keep their lower-producing-agents-with-the-most-favorable-commission-splits in business.
But I digress.
Would it be so bad if robots replaced realtors?
For the vast majority of old-school agents, the job of being a realtor is to properly complete a fill-in-the-blanks contract.  Those who are proficient at it then call themselves 'great negotiators'.
This week I saw a newer house that has been on the market for months, and from the photos, description, and price, there wasn't an obvious reason why it wasn't selling.  I called the agent – she didn't answer – so I left a detailed message asking questions about its salability.  The next day she sent me a text that said the house was still for sale, on lockbox, and if I showed it, to lock all the doors when I left.  All of her comments were stated clearly in the MLS – her only attempt at selling her listing was to regurgitate what was already obvious.
A robot could have done it better – the robot could have at least responded within a minute with the same information, instead of the next day.
I know it's demanding to expect realtors to process actual sales skills, but we're not going to have much choice in the future – agents are going to need better skills to survive.  Filling out forms isn't enough any more – a robot could do that, and frankly, robots might be an upgrade.
When you list with me, you can count on me to properly engage with other realtors, and give them several reasons why they should sell your house.
Get Good Help!