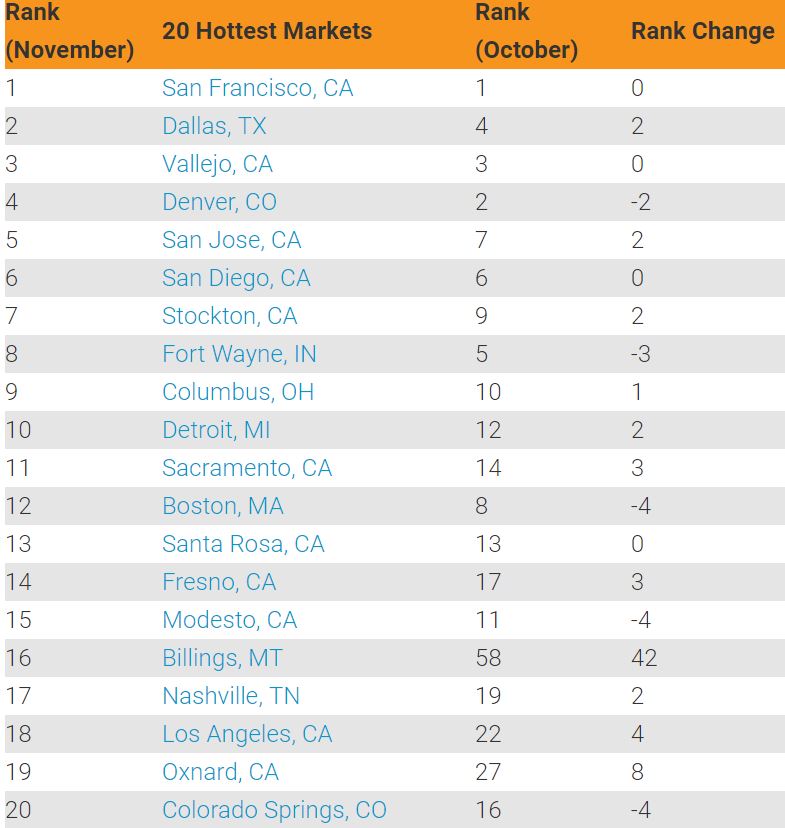 In spite of record pricing, our NSDCC new-listing count this month is going to come in under last November's count. Remember when greed was good? Apparently, staying put is better!
http://www.realtor.com/news/trends/20-hottest-markets-real-estate-u-s-november-2016/
While the nation is getting ready to digest massive amounts of turkey, the economic team at realtor.com® has digested a ton of data from our site for November. And though we're a few days from the end of the month, we can go out on a limb and say it'll be yet another month of record-low levels of housing supply, strong demand, and (not coincidentally) record-high prices.
The median list price looks to remain at $250,000 for a fourth straight month. That's 9% higher than last year at this time, and sets a new record for November.
"After an eventful election, demand for real estate appears to be carrying momentum going into the holiday season," says Javier Vivas, manager of economic research for realtor.com. "We  expect that to be put to the test, as mortgage rates sky rocket to new highs. But the economic foundations remain strong and most forecasts expect growth as we enter the new year, which should keep waves of buyers intent on entering the market."
Viewing activity on our site shows that there's still plenty of demand from buyers on the prowl for a home. But inventory of homes for sale is down 5% from October, and 11% compared with November 2015. It's that combo of low supply and high demand that's keeping prices high. And with only 363,000 new listings entering the market in November, the pickings will be even slimmer next month.
Although homes are selling a wee bit slower these days, as is typical in fall, they're still moving 1% faster than last November. We're projecting that homes for sale will have spent a median 82 days on market for November, three days slower than last month.