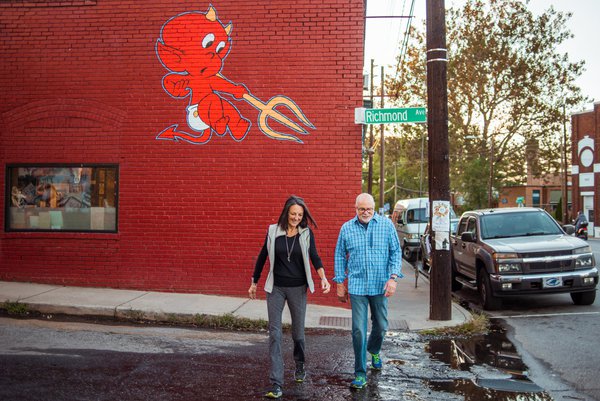 Being walkable – living close to services – is a hot button for buyers these days, especially among the older set.  Here's an article that backs it up – and may cause you re-think the McMansion in the 'burbs.  Thanks daytrip!
Few people in America walk to work. Most of us drive to the supermarket. But more older people these days are looking for a community where they can enjoy a full life without a car.
Ben Brown and his wife, Christine, say they weren't thinking about retirement when they moved to Franklin, N.C., a small, lovely town nestled in the Smoky Mountains near Asheville, a haven for many East Coast and Midwest retirees.
"We loved the idea of living in a small town in a rural mountain area," Mr. Brown recalled. "And we converted a summer house to a year-round home to suit our tastes."
Yet Mr. Brown, a 70-year-old writer, and his 66-year-old wife said they had second thoughts as they made the transition toward retirement.
"We realized 'aging in place' means a lot more than just a comfortable house," Mr. Brown said. "So we began thinking more about 'aging in community.' That means an urban neighborhood where you can walk or take transit to just about everything you need."
Then they discovered West Asheville, a vibrant, urban neighborhood that is brimming with trendy new restaurants, inviting shops and a number of bus routes into the larger city next door. Nearly every place they wanted to go was within walking distance, a major benefit for those who don't want to drive everywhere as they get older.
"We always thought we'd end up in an urban environment," Mr. Brown added. "We're in one of the few places where you can comfortably live without a car in a growing, mixed-use neighborhood."
In the age of the Fitbit and a growing cohort of active, engaged retirees eager to take their daily 10,000 steps, retirement communities have been slow to change. Eighty percent of retirees still live in car-dependent suburbs and rural areas, according to a Brookings Institution study.
Developments for independent retirees typically come in two flavors: isolated, gated subdivisions or large homes on golf courses, often in the same bland package of multiple cul-de-sacs. Both require driving everywhere, which is a problem for those who either don't want to drive or can't.
Enter a new paradigm: the walkable, urban space.
It may range from existing neighborhoods in places like Brooklyn or San Francisco to newly built housing within city and suburban cores from coast to coast. Though not primarily for retirees, places like Reston, Va., and Seaside, Fla., were early examples of the new urbanism built from the ground up. Among senior housing projects, examples include Waterstone at Wellesley along the Charles River in the Boston area and The Lofts at McKinley in downtown Phoenix. The theme is simple: Get out and walk to basic services.
Walkability, though, is much more than a hip marketing pitch. It's linked to better health, social engagement and higher property values.
Read full article here:
http://mobile.nytimes.com/2016/10/15/business/the-future-of-retirement-communities-walkable-and-urban.html
Save
Save