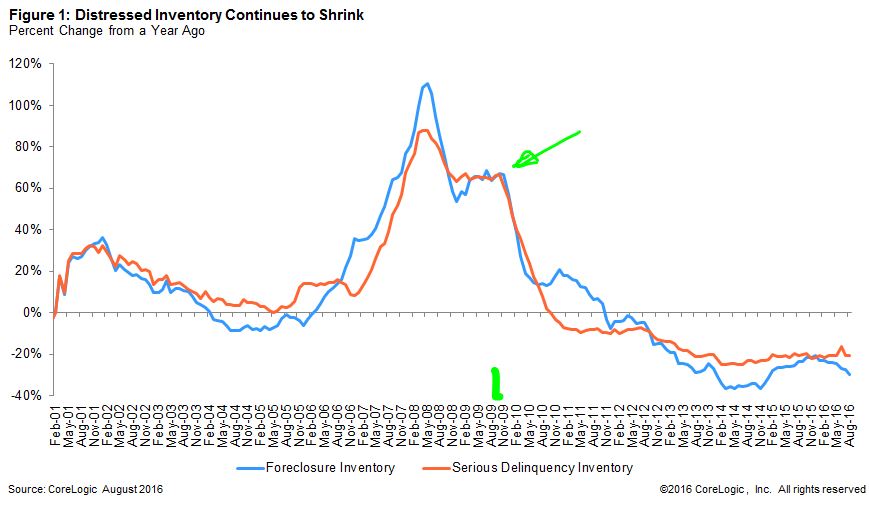 The latest foreclosure numbers are out, and we're down to less than 1% of all mortgages being in foreclosure:
The national foreclosure inventory – the number of loans in the foreclosure process – fell 29.6 percent year over year in August 2016, according to the latest CoreLogic Foreclosure Report. The foreclosure inventory has fallen on a year-over-year basis every month since November 2011 (Figure 1), and in August 2016 it was 77.5 percent below the January 2011 peak.
The foreclosure rate – the share of all loans in the foreclosure process – fell to 0.9 percent in August 2016, down from 1.3 percent in August 2015. While the foreclosure rate is back to 2007 levels, it is still above the pre-housing-crisis average foreclosure rate of 0.6 percent between 2000 and 2006.
But it still bugs me that NONE of the national real estate players or national media ever questions how or why foreclosures stopped.  After 2+ years of 60% or more growth of foreclosures AND serious delinquencies, all of a sudden BOTH dropped off a cliff at the end of 2009.
Our federal government and the banking industry obviously conspired to stem the losses, and then funded community activist groups who buy mortgages at a discount.  Here is an example:
Nevada's distressed home loans are still caught in economic quicksand, but not for lack of trying to combat banker haste with consumer-oriented ideas. The National Council of La Raza (NCLR), for example, has invested significant donor funds in efforts to bail out underwater borrowers when banks won't negotiate fairly.
"You want to keep families in place if possible, so foreclosure is the absolute last choice that we want, if we're involved in the transaction," NCLR Vice President for Housing and Community Development Lot Diaz told ThinkProgress.
Diaz's colleagues at an affiliated non-profit called Hogar Hispano purchase distressed mortgages and then return the homes to the owners at a fair market price that restores their chances of building up equity in the property. Hogar Hispano did 463 of these distressed debt acquisitions in 2013 alone, and saw a favorable outcome for the original homeowner in 316 of those cases.
Hogar Hispano also buys up houses that have already been taken over by the bank, known as REO properties, and then finds a buyer for them or converts them into rental units targeted at low- and moderate-income families. The group says its REO work has created close to 900 new homeowners and turned bank-owned homes into occupied housing more than 1,100 times, in Nevada and elsewhere. (LINK)
The whole mess just got swept under the carpet, which gave the insiders a fantastic opportunity to profit!  What a country!