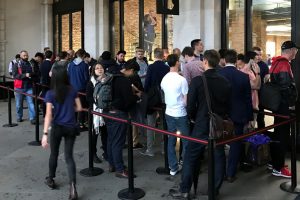 The iPhone 7 is out!  Smart phones and other mobile devices now dominate the landscape, and are practically part of the family.  Thankfully, they don't need their own bedroom and bath!
Most people scroll so quickly that they only take split-seconds to decide which homes to consider.  Having limited inventory might be a good thing!
The first impression of the home needs to be incredible just to capture their attention for a few seconds.
Home Selling in the Mobile-Device Era

 Staging – The photos are already small enough on these phones – they become much more appealing with the right decor.  Once the buyers arrive for their minutes-long tour, it's easier for them to visualize too.
 Pro Photos Only – Buyers are frustrated enough, and they won't tolerate poor-quality photos. It's too easy for them to keep swiping.
 Colors need to be current.  In the minds of fast-moving buyers, out-of-style colors = fixer.
 Powerful Remarks – Listings with the usual mumbo-jumbo in the remarks won't get read.
 Responding to Inquires – Zillow recommends that agents respond to inquiries within five minutes – otherwise, consumers will forget the property!
 Comps – Buyers are moving (too) fast, and there aren't as many sales so it's tougher to track the values easily.  Give them a hand – list the comps in the remarks!
 Sell with Less – Don't include 25 photos of beddings and local attractions.
 Old Listings are Toast – Buyers ignore old listings – they want new meat.
This is the era of sensory overload.  There are so many advertising images coming at us every second that our go-to is to ignore first.  But those clear, clean, sleek, easy-to-read listings with great photos and an attractive price still have a good chance of selling!
Save