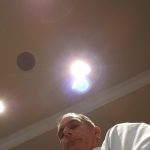 Hello San Diego agents!
Zillow has been taking it to us for ten years, in spite of regular discussion about how something needs to be done.
Our NSDCAR president moderated the MLS Symposium today, and with good intention – let's inform/frighten the agents about the Zillow attack, and suggest that something needs to happen.
There are thousands of realtors, but only 150 or so were at the meeting.
No real solutions were offered, so here are mine:
 Settle the lawsuit with SDAR, even if it means giving them the data.
 Terminate Sandicor, and let's join CRMLS.
 Hope the Broker Public Portal can beat Zillow.
The MLS run by CRMLS is a vastly superior to the Sandicor version, and we should change immediately.  But because the SD Association of Realtors is suing over data access, let's break off and join CRMLS on our own.  Brokers can join any association – let's go with the one that is the biggest and most progressive.
Here is video of today's MLS Symposium:
Save
Save