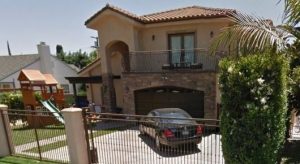 Hat tip to ME for sending this in!
http://abc7.com/news/$150000-in-watches-jewelry-stolen-during-sherman-oaks-open-house/1490591/
An open house to sell a Sherman Oaks home opened the door to a set of thieves who made off with more than $150,000 of jewelry and watches.
The homeowner said his real estate agent was tricked by a couple who quickly scouted the house – then distracted him while two other men moved in.
"These guys seem like they were professionals. They walked right in, they didn't pay attention to anybody. … It just seemed like they do this all the time."
The men were caught on surveillance camera going upstairs, where they went into the home's office and bedroom. The homeowner hid an expensive watch collection in his closet, but one of the men found it.  The other man grabbed an iPad and a camera, just put it around his neck and walked out with it.
Real estate agents suggest homeowners remove or lock up valuables before an open house.But this family says they'll never have an open house again.
"Everybody has something small or something you're not paying attention to and it's taken," the homeowner said. "My advice is do appointment only."
Anyone who has information or recognizes the people in the surveillance video is asked to call police at 1-877-LAPD-24-7.
Save