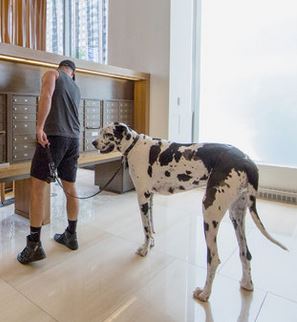 Dogs are people too! A few examples of how dogs influence real estate decisions. H/T to daytrip:
http://www.nytimes.com/2016/08/21/realestate/when-the-dog-decides-where-you-live.html?_r=0
Two excerpts:
"These are people who have a great deal of empathy," Dr. Kagle said, "so they worry about their pets as they would worry about another human being — though some have been known to carry it to extremes."
That group might well include the couple whose elderly dog had a pet peeve about being stuck in New York traffic. "They had a weekend house and they wanted their primary residence to be close to the F.D.R. so they could get out of town quickly for the sake of the dog, because otherwise he would get very stressed," said Barbara J. Dervan, an associate broker at Fox Residential Group. The solution: an apartment on East End Avenue.
Three years ago, when Mr. Saville, 39, a marketing manager at Pernod Ricard U.S.A., the wine and spirits company, moved to New York from Miami, he knew what he wanted: a walk-up, preferably in a brownstone; failing that, an apartment on a high floor with a grand view of the city. Dreams, dreams, idle dreams. None of this was going to work for Wesley, Mr. Saville's harlequin Great Dane. Climbing stairs would have been tough on Wesley's legs, so an elevator building was a must. But an apartment high in the sky, Mr. Saville's preference, wouldn't have served Wesley's needs, either.
"I wouldn't say I'm ruled by my dog, but I have to give up a certain number of things because of him," Mr. Saville said. Despite his own preferences for an eyeful of cityscape and sky, he looked for a vacancy on the lowest floor available.
"Elevators can stop at every floor and when there's an emergency and Wesley's got to go, being able to get out of the building quickly was important." Also important: a bedroom large enough to accommodate a California king bed — another Wesley-driven necessity, because the dog bunks down with Mr. Saville. Oh, and the apartment had to have a washer and dryer. It seems that Wesley sheds.
Read full article here:
http://www.nytimes.com/2016/08/21/realestate/when-the-dog-decides-where-you-live.html?_r=0