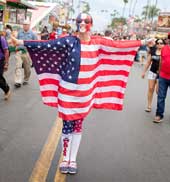 San Diego is the #1 destination!  See you on the freeway!
http://www.seasidecourier.com/news/july-travel-weekend-to-be-biggest-on-record
The forthcoming Fourth of July travel weekend will be the biggest on record for residents of Southern California, according to the Automotive Club of Southern California.
More than 3 million Southern California residents are expected to take an Independence Day vacation this year — a 1.3 percent increase over the 2015 Independence Day weekend, the Auto Club said in a statement.
According to a survey of AAA Travel agents, the top five destinations for Southern Californians this holiday are, in the following order, San Diego, Las Vegas, San Francisco, Santa Barbara and Yosemite.
If you do make it to San Diego, here are things to do this weekend:
Big Bay Boom Fireworks Show: The 16th annual show features fireworks discharged simultaneously from four barges around North San Diego Bay. The display begins at 9 p.m., lasts about 18 minutes and is accompanied by a patriotic score simulcast on radio stations FM 105.7 and AM 1090. You can also watch it live starting at 8 p.m. on Fox 5 San Diego or KTLA 5 Los Angeles.
Seaworld San Diego – Enjoy an extended special fireworks display, Celebrate the Wonder, at Seaworld, beginning on July 4th at 9:40 pm.
Fourth of July Lights Over The Cove: Bring a picnic basket, a blanket or chair and find the perfect spot to enjoy San Diego's sunset views and a fireworks show starting at 9 pm. Ellen Browning Scripps Park, 1180 Coast Blvd., La Jolla.
Del Mar Fair: The Fair wraps up its 2016 run with the Special Edition Orchestra at 8pm, and feature selections from the Glenn Miller 1944 military band library, patriotic songs, and an original band theme inspired by Glenn Miller's book "Method for Orchestral Arranging" published in 1942. Music to be performed will include "America," "St. Louis Blues," "Stars and Stripes Forever," "Rhapsody in Blue" and "God Bless America."  Fireworks start at 9pm.
Rancho Santa Fe Parade and Picnic: Pack a few blankets and chairs for Rancho Santa Fe's Annual 4th of July Parade & Picnic with live music, food, fun and more. It starts at 1:00pm in front of the Inn (no fireworks).
Carlsbad – Red, White, and BOOM: Take the whole family to Legoland and spend the day enjoying over 60 rides, shows and attractions along with some all-American picnic games like burlap races and water-balloon tosses.  Top it off with an awe-inspiring fireworks display set to patriotic music at 8:30pm.
City of Oceanside Fireworks Show on Sunday, July 3, 2016:  The fireworks will be staged north of the El Corazon Senior Center, located at 3302 Senior Center Drive.  There will be music and food trucks from 6:00– 9:00pm.  Fireworks display will be at 9:00pm.