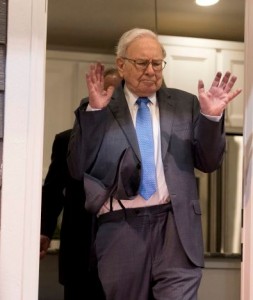 For the vast majority of Americans who just skim the real estate headlines, a quote from Warren Buffett should keep the party rolling.  But does he qualify as a cheerleader now that he owns one of the biggest realtor companies? And this photo they used – is that a perp walk?
http://fortune.com/2016/04/30/warren-buffett-there-is-no-bubble-in-real-estate/
An excerpt:
Warren Buffett says now is a good time to buy a house, though not as good as it was four years ago. Still, Buffett says he thinks the chances of housing prices collapsing are very low.
"I don't see a nationwide bubble in real estate right now at all," says Buffett.
Buffett made remarks at the annual meeting Berkshire Hathaway, which took place on Saturday in Omaha. "In Omaha and other parts of the country people are not paying bubble prices for real estate," says Buffett.
Earlier in the day in response to a question about banks, Buffett said he did think derivatives are a "ticking time bomb." But when it comes to housing and mortgage loans, Buffett said, while real estate was certainly a problem in 2008, he didn't think that would be the source of the next problem for the financial system. "I don't think we will have a repeat of that," says Buffett.