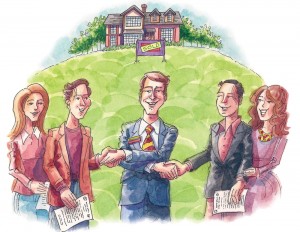 If dual agency gets outlawed in California, wouldn't listing agents would just spoon the buyer side to a friend or spouse working for a different broker, rather than cough up half the fee?  And if we're heading for single agency, does this complicate or encourage?
http://www.ocregister.com/articles/agent-714296-real-buyer.html
An excerpt:
Both Horiike's agent and the listing agent worked for Coldwell Banker, so the brokerage was the dual agent of the buyer and seller, as confirmed in the disclosure forms Horiike signed.
A couple of years later, when seeking a permit to remodel a room, Horiike discovered the house wasn't as large as he thought. In 2010, he sued the listing agent, Chris Cortazzo, and Coldwell Banker, stating they violated their fiduciary duty to him. (He did not sue his own Coldwell Banker agent, however.)
The jury disagreed that the listing agent had a fiduciary duty to the buyer or that the broker was liable for a breach of fiduciary duty based on the agent's acts.
Horiike prevailed on appeal. The justices found that Cortazzo "did not add a handwritten note of advice to hire a qualified specialist to verify the square footage of the home" to a visual inspection disclosure, as he had done with a previous prospective buyer.
"A trier of fact could conclude that although Cortazzo did not intentionally conceal the information, Cortazzo breached his fiduciary duty by failing to communicate all of the material information he knew about the square footage," the justices wrote in their decision.
They also stated, "When a broker is the dual agent of both the buyer and the seller … the salespersons acting under the broker have the same fiduciary duty to the buyer and the seller as the broker."
And they cited a finding in another case about confusion in the industry:
"Salespersons commonly believe that there is no dual representation if one salesperson 'represents' one party to the transaction and another salesperson employed by the same broker 'represents' another party to the transaction. The real estate industry has sought to establish salepersons as 'independent contractors' for tax purposes and this concept has enhanced the misunderstanding of salespersons."
As both sides watch closely, "It is certainly possible that dual agency, as it is now commonly practiced in California, will become untenable," Hunt wrote in an article for RealtyTimes, a trade site.
The high court could add further rules or disclosure requirements. But, noting that the state generally has been strict about matters involving fiduciary duty, Stimmel hopes the argument over double ending doesn't end there.
"If any state is going to stop it," he said, "it's going to be California."