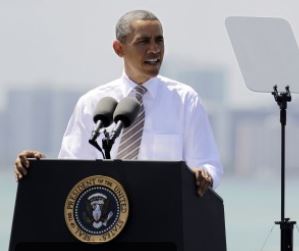 Do you buy anything that's cheap(er), figuring that the demand will become unglued and prices continue racing towards the sky – or sit this one out? P.S. Three offers are in on Cherokee, and more expected.
https://www.washingtonpost.com/business/economy/obama-administration-pushes-banks-to-make-home-loans-to-people-with-weaker-credit/2013/04/02/a8b4370c-9aef-11e2-a941-a19bce7af755_story.html
The Obama administration is engaged in a broad push to make more home loans available to people with weaker credit, an effort that officials say will help power the economic recovery but that skeptics say could open the door to the risky lending that caused the housing crash in the first place.
President Obama's economic advisers and outside experts say the nation's much-celebrated housing rebound is leaving too many people behind, including young people looking to buy their first homes and individuals with credit records weakened by the recession.
In response, administration officials say they are working to get banks to lend to a wider range of borrowers by taking advantage of taxpayer-backed programs — including those offered by the Federal Housing Administration — that insure home loans against default.
Housing officials are urging the Justice Department to provide assurances to banks, which have become increasingly cautious, that they will not face legal or financial recriminations if they make loans to riskier borrowers who meet government standards but later default.
Officials are also encouraging lenders to use more subjective judgment in determining whether to offer a loan and are seeking to make it easier for people who owe more than their properties are worth to refinance at today's low interest rates, among other steps.
Obama pledged in his State of the Union address to do more to make sure more Americans can enjoy the benefits of the housing recovery, but critics say encouraging banks to lend as broadly as the administration hopes will sow the seeds of another housing disaster and endanger taxpayer dollars.
"If that were to come to pass, that would open the floodgates to highly excessive risk and would send us right back on the same path we were just trying to recover from," said Ed Pinto, a resident fellow at the American Enterprise Institute and former top executive at mortgage giant Fannie Mae.