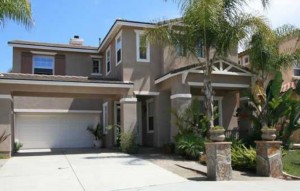 They nailed these guys for fraud….but only 18 months in jail?  This is more than your standard short-sale fraud, and I'm surprised this doesn't happen more often.  They just sent in a forged bank reconveyance showing that the mortgage had been paid (when it wasn't), and then sold the property.
A Carlsbad real estate broker and his brother were sentenced Monday to prison terms for their roles in a fraudulent "debt elimination" scheme that purported to eliminate the mortgages on several million-dollar homes in Del Mar, La Jolla and San Diego.
U.S. District Judge John Houston sentenced Adel Afkarian, 43, of Carlsbad, to 18 months in custody and Atef Afkarian, 41, of Slidell, Louisiana, to 13 months. In addition to the time in custody, the brothers were both ordered to pay more than $5.5 million in restitution to the victims of the scheme.
To implement the scheme, the Afkarians identified underwater homeowners — including themselves — and began a process to make it appear as though the homeowners' debts had been satisfied.
To do so, they recorded fraudulent deeds that purported to extinguish the large mortgage loans encumbering each property.
Working through entities known as The Better Mortgage Company and Elite Coast Realty, the defendants then sold the properties to innocent purchasers, deceiving the buyers into paying the full purchase price to the Afkarians or their co-conspirators. The mortgage lenders, unaware of the fraudulent documents recorded on title or unable to prevent the sale in time, were left unpaid.
With regard to their own underwater home, the Afkarians pretended that $1.4 million in mortgage debt had vanished, prosecutors said.
The defendants used the "debt elimination" method to successfully arrange the fraudulent sale of four properties, generating more than $4.3 million in proceeds which went directly into bank accounts of the brothers and their co-conspirators.
In some cases, the brothers sold the fraudulent "debt elimination" program to existing clients of their mortgage business, according to prosecutors.
In addition to the "debt elimination" scheme, the Afkarians also conspired to arrange fraudulent short sales for underwater clients through a simultaneous "double escrow" scheme.
Rather than selling an underwater home at a pre-approved short sale price, the defendants arranged two simultaneous sales of the same property at two sale prices, using a straw buyer as the intermediary and purported seller in the second transaction.
That way, the short sale lender would believe that the property was being sold for the initial first escrow price, rather than the higher second escrow price. The defendants and their co-conspirators would then pocket the difference, diverting money from the lenders.
The Afkarians each pleaded guilty in September 2013. As part of their pleas, they also agreed to forfeit a home on Santa Fe Canyon Place in Torrey Santa Fe, which they had purchased using about $715,000 in proceeds from the fraud, and an additional $388,000 recovered from bank accounts where they had transferred proceeds.