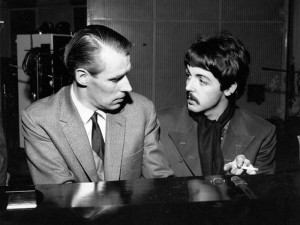 George Martin, producer of the Beatles, died yesterday at age 90.  He had a profound influence on the Beatles sound – Paul's comments:
"He was a true gentleman and like a second father to me," McCartney wrote on his website Wednesday. "He guided the career of The Beatles with such skill and good humour that he became a true friend to me and my family. If anyone earned the title of the fifth Beatle it was George. From the day that he gave The Beatles our first recording contract, to the last time I saw him, he was the most generous, intelligent and musical person I've ever had the pleasure to know."
The introductory comments from this video:
Of very few individual songs can it be said, 'This changed the course of popular music.' 'A Day In The Life' is one such song.
Recorded in January and February 1967, a large orchestra was assembled for the amazing additional flourishes and fills, although at first the 40 classically trained musicians struggled with the concept of what they were being asked to play.
George Martin and Paul conducted the orchestra and helped to create a finished track that was more than just different, it was utterly unique. Starting from John's beautiful song, the end result was something simply unbelievable.
As you can see from the film, this was no ordinary recording session. The classical musicians, who had been asked to wear evening dress, took it upon themselves to wear fake noses, funny hats and generally enter into the spirit of the occasion. Filmed between 8pm and 1am with guests including Mick Jagger and Keith Richards, the occasion provided some of the inspiration for what transpired during the recording and filming of 'All You Need Is Love' for the Our World project.