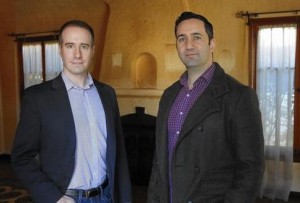 The building of the next bubble won't look the same as the last one, but a common thread will be lenders who are hands-off. Hat tip to daytrip for sending in this story about crowdfunding for flippers:
http://www.latimes.com/business/la-fi-crowdfunding-house-flippers-20160214-story.html
An excerpt:
Although data providers don't track the number or dollar-volume of loans going to house flippers as opposed to developers of larger projects, more than a dozen real-estate-focused platforms offer loans to them. And a handful of Southern California start-ups specialize in the market.
Patch of Land in West Los Angeles made about $61 million in loans last year, mostly to house flippers, and PeerStreet in Manhattan Beach made $40 million, almost entirely to them.
"There's a crowdfunder popping up once a month now, and the low-hanging fruit is the fix and flips," said Jonathan Lee, a principal at George Smith Partners, a Century City real-estate-financing firm.
Like hard-money lenders, crowdfunding platforms guard against risk by securing the loans to the property and lending for less than its full value.
If a borrower goes bust, the lender takes title to the property, which, in theory, can be sold for more than the loan principal. PeerStreet, for instance, typically will lend only about 75% of a home's value.
"They don't look at income or tax returns. They're looking at the property and the project. Is there profit to be made?" said Christian Fuentes, a Pomona real estate agent and house flipper.
Patch of Land can issue a check in just a couple of weeks, assuming that a loan meets its underwriting standards. The loan is then offered up to the 17,000 investors signed up on its site.
Golden Bee in November bought a two-bedroom house on Greenfield Avenue in West L.A., not far from the Westside Pavilion. The company paid about $1.2 million, with $1 million coming from Patch of Land at an annual interest rate of 12%.
Berneman is planning a $750,000 renovation that will add more than 1,500 square feet of space, along with new plumbing and wiring. He estimates that the house, built in the 1930s, hasn't been renovated in 50 years.
"We'll be knocking some of it down to the studs," he said.
Berneman hopes to sell the house for as much as $2.5 million once it's back on the market this fall. Golden Bee would stand to make $575,000, not including the cost of financing.