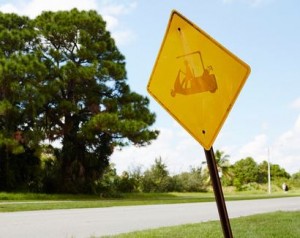 A story with great examples of golf courses being closed across the country, and many being turned into real estate developments.
From the nytimes.com:
BOCA RATON, Fla. — Weeds, crabgrass and fallen palm fronds cover the wildly overgrown greens of what was once the Mizner Trail Golf Club, its decrepit state emblematic of the fate of hundreds of golf courses around the country, many of them derisively known as "rabbit patches" or "goat farms."
A short drive away, however, perspiring construction workers in yellow vests swarmed on a recent afternoon over the emerging structure of a 150,000-square-foot activities center, part of a $50 million renovation of the 44-year-old Boca West Country Club, home to some 6,000 residents, where fairways are newly planted and houses sell for as much as $5 million.
With the winter golf season beginning in Florida — the nation's leader in golf courses with more than 1,000 — the extremes of failure and success point to a nationwide upheaval in the sport. It was booming when players like Tiger Woods reigned, but has since been roiled by changing tastes and economics, an aging population of players, and the vagaries of the millennial generation's evolving pastimes.
There are about four million fewer players in the United States than there were a decade ago, according to the National Golf Foundation. Almost 650 18-hole golf courses have closed since 2006, the group says. In 2013 alone, 158 golf courses closed and just 14 opened, the eighth consecutive year that closures outpaced openings. Between 130 and 160 courses are closing every 12 months, a trend that the foundation predicts will continue "for the next few years."
Dozens of private and public golf courses here in South Florida, and hundreds around the country, are in transition. Some courses have sought bankruptcy protection, while others have slipped into foreclosure. Many are under construction, with single-family homes and condominiums going up on land once dotted only with pin flags, sand traps and water hazards. Others have gone to seed as they await resolution of legal and zoning disputes.
Read full article here:
http://www.nytimes.com/2015/11/25/realestate/commercial/fewer-golfers-but-some-lush-courses-are-booming.html