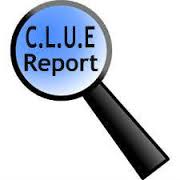 What is C.L.U.E?
It's the little black book of claim records that the insurance industry keeps on its clients and their properties.  It is the Carfax for insurance claims:
CLUE (Comprehensive Loss Underwriting Exchange) is a claims-information report generated by LexisNexis®, a consumer-reporting agency. The report generally contains up to seven years of personal-auto and personal-property claims history.
For years the LexisNexis company had sold the history of claims to third-party companies who also furnished the Natural Hazard Disclosures report. These independent companies would bundle up the whole package and provide these required disclosures to home sellers – who would then complete their disclosure requirement and deliver the package to the buyers.
But we've had a development, starting today:
Recap of Changes: 
1. NHD companies will no longer be able to provide C.L.U.E.® Reports. LexisNexis, the provider of the C.L.U.E.® Report, will discontinue providing the information through NHD companies.
2. Only the property owner will be able to request the C.L.U.E.® Home Seller's Disclosure Report. LexisNexis will ask specific questions to verify their identity (SSN, DOB, etc.).
3. The link to LexisNexis is https://personalreports.lexisnexis.com/index.jsp, then click the "Additional Reports" tab (top middle of the page) and select Home Seller's Disclosure Report.
4. The C.L.U.E.® Report is not a mandatory Report. The Seller's only obligation is to disclose and explain within their knowledge about any insurance claims for the past 5 years. The California Association of Realtors® Supplemental Statutory and Contractual Disclosures (SSD) form provides a line item to disclose that information.
Now only the homeowner can access the C.L.U.E. report, which presents an interesting dilemma for buyers.  What happens if you ask for a free report, and they say no?
I've had five-figure claims be exposed by C.L.U.E reports, and even had a six-figure claim once that a seller gingerly tried to explain was his remodeling budget.  Sellers who haven't owned the house for five years may not know the history.
There has already been one local real estate company that has decided not to require a C.L.U.E report any more.  Buyers of their listings will have to rely solely on the seller's disclosures only.
I can't remember a time when we have gone backwards on disclosures, and now we can provide less than before.
With our listings, I will insist that our sellers provide the free report in advance.  Comfortable buyers pay more money, and they close escrows.