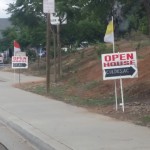 Common sense should dictate here.  Listing a home on a Thursday with professional photos and video gives buyers a chance to schedule a showing between Friday and Sunday – probably the most flexible days on their calendar.  Open houses conducted by professional sales people add maximum convenience, and then having a good listing agent handle the results (good or bad) ensures a successful outcome.
From HW:
Selling a home is part art and part science, and any information that gives sellers and their Realtors a leg up is welcome news. Terrace 24 just revealed new data that shows that the best day to list a home is actually Thursday — not Friday, which is most Realtors' choice.
"Currently, more agents are listing homes on Friday than any other day of the week, but homes listed on Thursday sell faster and for higher prices," said Mike Minihan, managing broker of Terrace 24.
The company's data came from sales research in six Atlanta metro counties from Sept. 2014 through Sept. 2015.
From the firm's analysis:
Of the homes that sold without a price reduction, the homes that listed on Thursday sold for the fewest days on market at a median of 19 days. Homes listed on Sunday were on the market the longest.
Again, of the homes that sold without a price reduction, the median percentage of the list price that the Thursday sellers got was 97.78%. That is higher than any other day of the week.
Homes listed on Thursday were more likely to receive an offer of more than 100%, suggesting there was a bidding war.
http://www.housingwire.com/articles/35460-whats-the-best-day-to-list-a-house-for-sale