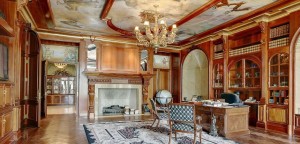 A 15-bedroom American mansion with a guitar-shaped driveway has gone up for auction – with a starting bid of $0.
Seven Montagel Way will go under the hammer on October 31.
The 27-acre property in Shoal Creek, Alabama comes with a horse riding arena and a fitness centre.
The impressive 16-bathroom property includes a decadent foyer with ceiling murals and crystal chandeliers.
It also boasts a screening room with a 170-inch screen, theatre-style seating for 25 people and an authentic box-office, a commercial-grade elevator, a wine cellar with shelving for 2,000 bottles and a game room.
In 2011 the property was listed for $17.9 million (£11.67million) by owner Larry House – the former CEO of MedPartners, a firm that supplies staff to hospitals and medical centres – but he removed it after it failed to sell.
Last year, the house was put on the market again for $13.9 million (£9million). At the time, Pam Ausley, the listing agent, said the property awas too big for Mr House.
She said: 'Their kids are grown, and they're just ready to do something different. He knows it's not the best time to sell, but he's just ready.'
Mr House also put the property up for auction in 2003 but bought it back when it sold for just $3.95 million (£2.57million).
CEO and founder of DeCaro Luxury Auctions, Daniel DeCaro, said: 'Inspired by historic French and Italian castles of Europe, architect Bill Shepard designed 7 Montagel Way to feel like a traditional palace in Versailles.

Read more: LINK