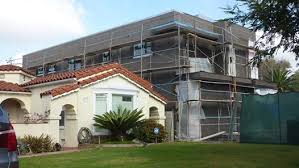 From the Union-Tribune:
Encinitas will explore ways curb the construction of oversized homes that neighbors call "McMansions," while attempting to balance the rights of property owners.
Councilman Tony Kranz, who brought the idea forward at a council meeting Wednesday night, said that people who own smaller homes in the city's older neighborhoods shouldn't have to worry that someone will buy a neighboring home, demolish it, and then build a new structure that towers over all the other houses.
"I just don't think that's good for the community," he said.
His proposal to restrict home sizes divided the council on Wednesday. Council members voted 3-2, with Mayor Kristin Gaspar and Mark Muir opposed, to direct the Planning Commission to explore the idea and bring back some recommendations.
Councilwoman Lisa Shaffer, who voted with the majority, said she supported the concept, but had some concerns about whether the proposed new restrictions might impact home remodeling projects as well as new home construction. If a couple wants to build an addition to their home to accommodate their growing family, they're not going to be happy if the city bans them from doing so, she said.
Gaspar said she and Shaffer were on the same side when it came to that issue, adding that restrictions limiting home sizes will outrage many property owners.
"The moment you start suddenly talking about decreasing a homeowner's property value, we're going to have some problems, I can tell you that," she said. "So, I would say tread lightly on any ordinance that you're looking to put in place."
Read full article here: