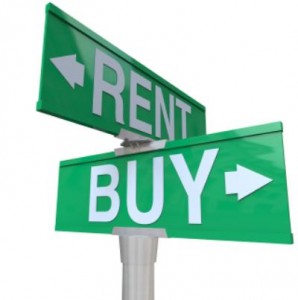 This cnbc.com article talks about how 'crazy' rents have become, which isn't exactly a scientific term but rents do appear to be on the rise.  But the indented paragraph below shows how low rates and big down payments have helped buyers lower their monthly 'nut' compared to the last boom:
http://www.cnbc.com/2015/08/16/rents-rise-to-crazy-levels-zillow.html?
An excerpt:
In some areas, rent is even more unaffordable. In Los Angeles, California, renters sent nearly 50 percent of their income to the landlord in the second quarter, while in the New York-Northern New Jersey and the Miami-Fort Lauderdale, Florida areas, that was hovering around 41-45 percent, the survey from the real estate listing and analytics company found.
Rents and occupancies are currently hovering at historic highs. While apartment construction has seen strong growth over the past three years, construction of multifamily homes, such as apartment buildings, fell to next to nothing amid the housing bust and the new units are meeting with pent-up demand.
Buyers, however, appear to be sitting pretty, likely spending around 15.1 percent of their monthly income on mortgage payments, down from around 21.3 percent in the 1985-2000 period, the study found.
"If you can possibly come up with a down payment, then it's a good time to buy a home and start putting your money toward a mortgage," Gudell said.