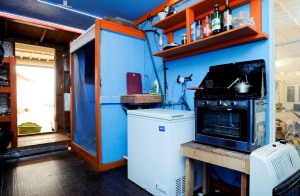 From Bloomberg (link HERE)
Luke Iseman has figured out how to afford the San Francisco Bay area. He lives in a shipping container.
The Wharton School graduate's 160-square-foot box has a camp stove and a shower made of old boat hulls. It's one of 11 miniature residences inside a warehouse he leases across the Bay Bridge from the city, where his tenants share communal toilets and a sense of adventure. Legal? No, but he's eluded code enforcers who rousted what he calls cargotopia from two other sites. If all goes according to plan, he'll get a startup out of his response to the most expensive U.S. housing market.
"It's not making us much money yet, but it allows us to live in the Bay Area, which is a feat," said Iseman, 31, who's developing a container-house business. "We have an opportunity here to create a new model for urban development that's more sustainable, more affordable and more enjoyable."
More HERE