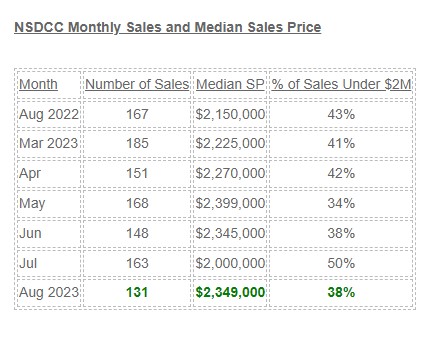 My thoughts:
Sales are holding up nicely here at the end of August – a time when the buyer pool could have, and should have been completely exhausted. With five business days to go plus late-reporters, we should see this month's closed sales get up to 160 or so and be near the MoM and YoY numbers – with a higher median sales price.
Of today's 155 pending listings, 62 of them went into escrow prior to August. All of those 62 should have their contingencies released by now and are just waiting to close. If 40 of those close this month, and the final August sales count gets to 170+ it would be phenomenal. Compare to April, May, and June!
Last month's drop in the median sales price was a one-off.
There are no comparisons to pre-covid August counts. There were 262 sales in August, 2019, but that was way back when the NSDCC median sales price was $1,354,500 – ancient history!
Given where prices and rates are today, I'll take 170 August sales though!