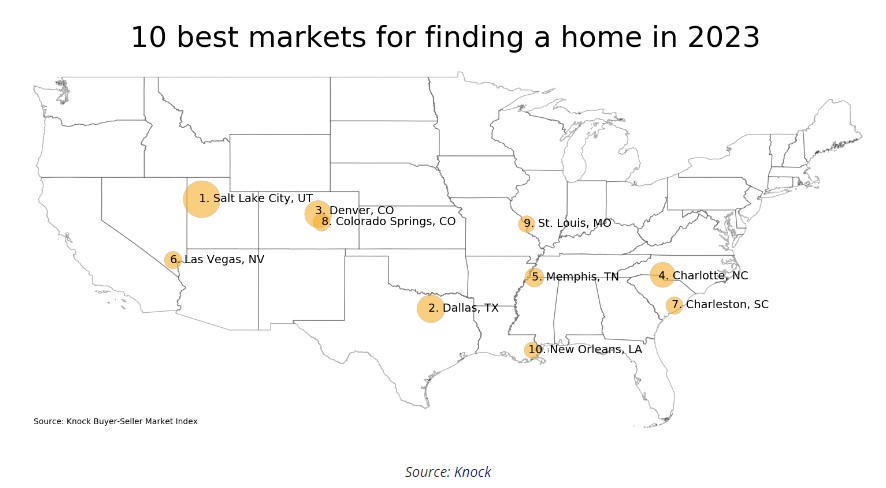 According to the Knock Buyer Seller Market Index report, continuing shifts in the U.S. housing market will increase the number of buyers' markets from 13 to 34 by the end of 2023.
It's still early days in 2023, and going by the latest data from the Knock Buyer-Seller Market Index, 44 of the 100 largest housing markets favored (or strongly favored) sellers, 44 were neutral, and 13 favored buyers.
That's actually good news for buyers. A year ago, all 100 of those markets favored sellers.
But over the past 12 months, the slowdown in home sales and home price growth have been shifting the market in buyers' favor.
According to the Knock Buyer-Seller Market Index, which measures the degree to which each of the 100 largest markets favors home buyers or sellers, based on key housing market metrics, the market has shifted over the past 12 months to change the number of markets favoring buyers from zero to 13. And by the end of 2023, that number is expected to reach 34.
Using data from the Knock index, here are the 10 best markets for buying a home in 2023. The index uses the following six equally-weighted housing metrics, each representing six years of monthly data, to analyze each market:
Average sale-to-ask price ratio—Average calculation of the ratio of final home sale price to asking price.
Number of Homes Sold
Inventory—Number of active listings
Median Days on Market—Median number of days between a property's listing date and the day it's removed from the market (when it goes pending).
Median Sale Price—Middle of the home sale price distribution
Months' Supply—Calculation: number of active listings / months' supply using a six-month moving average inventory estimate as the denominator (starting June 2017)
THE TOP 10 MARKETS FOR BUYING A HOME IN 2023
Here are the ten best markets for buying a home in 2023, based on those six key housing market metrics:
Salt Lake City, UT
Dallas–Fort Worth–Arlington, TX
Denver–Aurora–Lakewood, CO
Charlotte–Concord–Gastonia, NC-SC
Memphis, TN-MS-AR
Las Vegas–Henderson–Paradise, NV
Charleston–North Charleston, SC
Colorado Springs, CO
St. Louis, MO
New Orleans–Metairie, LA
WHAT TO EXPECT THIS YEAR: SEASONAL SHIFTS IN KEY HOUSING METRICS
Based on seasonal trends and data for the Knock Index, home buyers are expected to return to the market in greater numbers this spring, creating a window of opportunity for sellers.
Seasonal patterns typically bring an increase in buyer activity in the spring, and with what we've seen in January, the market is likely to shift in sellers' favor in the months ahead before moving decisively in favor of buyers by summer and staying in that direction for the rest of 2023.
By year-end, 34 of 100 markets are expected to be buyers' markets—up from last December's 13—while 34 will remain sellers' markets (down from 44) and 32 will be neutral.
Meanwhile, the shortfall in inventory will keep home prices from falling to any significant degree. Only 16 of the 100 largest markets are likely to see any declines in home prices.
In fact, median sale prices are likely to increase at least 10% in 20 markets over the same time period. The forecast calls for a peak in home prices at $366,000 by June 2023, well below the record-breaking peak of $410,000 set last April, May, and June.
By December, according to the forecast, the median home sale price will decline 4% year over year to $351,000.
Home sales are also expected to drop by 10.5% year over year, with the number declining in 75 markets. And the typical home will spend a median 52 days on market by year-end—the longest time on market since January 2017.
Days on market for Raleigh, NC and Greeley, CO are expected to lead all other markets at 130 and 104 days, respectively.
The sale-to-asking price ratio is forecast to hold at between 2-3% below list price through the spring before declining in August and ending the year down 4%, the lowest ratio since January 2017, the first month of Knock's Buyer-Seller Market Index.
https://nowbam.com/10-best-markets-for-buying-a-home-in-2023/