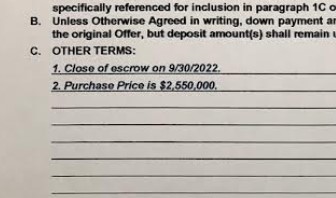 I had mentioned in the comments section that I showed a house on Labor Day that was priced at $2,195,000. The temperature was so hot that I literally said to my buyers that no agents would be working on the holiday, let alone writing offers, so we should have an easy path to escrow. We wrote a full-price offer and expected the seller to sign it on Tuesday.
Donna suggested that I call the listing agent to see if there were any other offers. I shrugged it off, thinking there weren't going to be any other offers – heck, the market is dying a slow death, right?
So Donna called, and found out that there was an offer, and it was over list price.
By late Tuesday, there were SEVEN offers.
It felt like 2021 all over again as the listing agent gathered the highest-and-best offers from the contestants. Yesterday, she revealed that the decision was going to be between my buyers and one other, and that we were in second place.
We had bumped our offer to $2,450,000, and that wasn't enough to win? Wow!
I asked her to tell me the number to beat…..and she did, and sent me the document to prove it (snip above).
Ultimately my buyers decided not to go higher.  But I complimented the agent for her transparency, and told her that I wish every listing agent would do that. I guess it's possible with blind bidding that a buyer might go wild, but we were already 12% over the list price in a non-frenzy environment.  It's much more likely that my buyers would go higher if they had a number to hit, and be able to say yes or no, rather than having to grope around in the dark trying to guess what it would take to win.
Congratulations to the seller and listing agent, and bravo – job well done.