We are into the second half of 2022. Where do we go from here?
Things we can expect:
Sales are dropping and will likely be lower for 1-3 years.
Mortgage rates aren't going back to 3%…..but they might hang around in the 4s.
Until the capital-gains tax is drastically reduced, long-timers want to stay put.
San Diego is a desirable destination for affluent downsizers.
Our home prices look attractive to affluent downsizers.
Leaving San Diego is less appealing, due to rising home prices elsewhere.
A slower pace might encourage sales and keep buyers engaged.
Rents can go up by 10% starting August 1st.
The media, especially social media, is a negative influence.
There is game-changing commotion within the industry.
Let's tackle these and other topics as we get closer to 2023 – I've created a new blog-post category today conveniently entitled, '2023' at the top of this page.
~~~~~~~~~~~~~~~~~~~~~~~~~~~~~~~~~~~~~~~~~~
The article below confirms that:
San Diego is NOT in the Top 10 places that people want to leave,
Half of the places people are leaving are more expensive than here, and
We ARE in the Top 10 destinations of where people want to move:
https://www.cnbc.com/2022/07/24/redfin-homebuyers-want-to-leave-san-francisco-los-angeles-new-york.html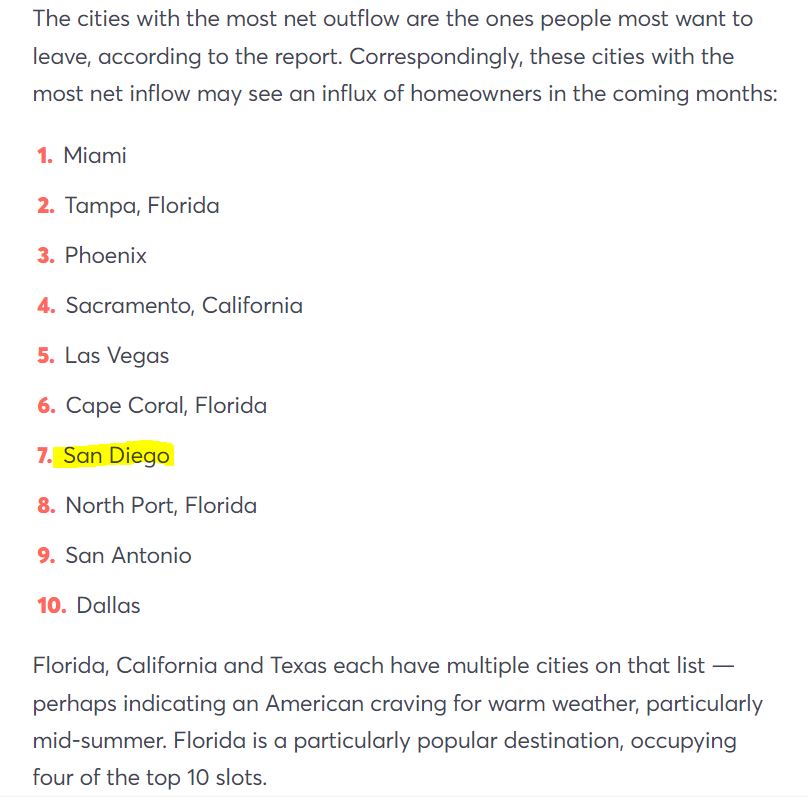 If you were an affluent downsizer looking at those ten choices, which would you select?  It also means that the North San Diego County coastal market will probably be dependent upon those buyers coming from more-expensive areas – and that those markets continue to hold up there.
We will find a way to survive the next six months, and by the 2023 Selling Season we should see a healthy increase in supply and demand.  The worst thing that will happen is that pricing might be lower, which buyers won't mind.
Get Good Help!
~~~~~~~~~~~~~~~~~~~~~~~~~~~~~~~~~~~~~~~~~~
Another good day for rates – from midday Friday, July 29th: