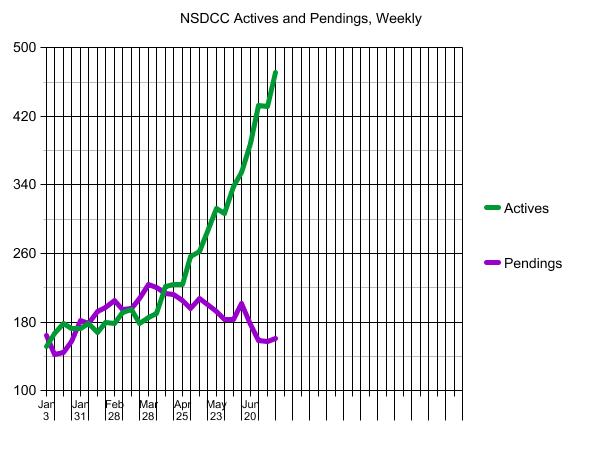 The Big Standoff continued this week.
Sellers are confident about their pricing, and refuse to budge much – and buyers are being very patient.
There were 55 new NSDCC listings in the last week, and NONE of them have been marked pending yet!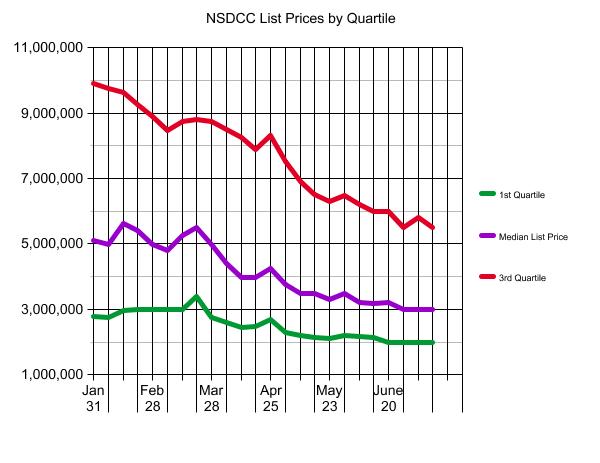 Pricing in the higher-end market looks troubling, but it's mostly due to the additional homes for sale.
On January 31st, the 3rd quartile was $9,922,500, and today it's $5,500,000 which is a 45% drop! There were 102 active listings priced over $4,000,000 back then, and now it's grown to 164, which is a 60% increase.  More sellers are pushing into the higher ranges!
~~~~~~~~~~~~~~~~~~~~~~~~~~~~~~~~~~~
The $0 – $1,500,000 Market:
| | | | | |
| --- | --- | --- | --- | --- |
| Date | NSDCC Active Listings | Avg. LP/sf | Avg. DOM | # of Pendings |
| Jan 3, 2022 | 9 | $832/sf | 35 | 36 |
| Jan 10 | 9 | $766/sf | 28 | 29 |
| Jan 17 | 13 | $773/sf | 26 | 27 |
| Jan 24 | 9 | $818/sf | 15 | 29 |
| Jan 31 | 14 | $752/sf | 14 | 31 |
| Feb 7 | 13 | $774/sf | 12 | 32 |
| Feb 14 | 11 | $826/sf | 12 | 35 |
| Feb 21 | 7 | $889/sf | 17 | 38 |
| Feb 28 | 12 | $888/sf | 17 | 33 |
| Mar 7 | 9 | $1,017/sf | 21 | 33 |
| Mar 14 | 14 | $847/sf | 18 | 31 |
| Mar 21 | 8 | $912/sf | 26 | 36 |
| Mar 28 | 10 | $914/sf | 25 | 28 |
| Apr 4 | 10 | $782/sf | 33 | 34 |
| Apr 11 | 19 | $733/sf | 21 | 36 |
| Apr 18 | 16 | $795/sf | 28 | 34 |
| Apr 25 | 18 | $891/sf | 27 | 30 |
| May 2 | 22 | $822/sf | 23 | 31 |
| May 9 | 24 | $887/sf | 17 | 46 |
| May 16 | 25 | $783/sf | 22 | 25 |
| May 23 | 29 | $782/sf | 23 | 29 |
| May 30 | 30 | $782/sf | 24 | 28 |
| Jun 6 | 34 | $763/sf | 25 | 28 |
| Jun 13 | 33 | $802/sf | 29 | 29 |
| Jun 20 | 48 | $774/sf | 28 | 22 |
| Jun 27 | 43 | $755/sf | 32 | 22 |
| Jul 4 | 49 | $757/sf | 33 | 23 |
| Jul 11 | 56 | $757/sf | 35 | 22 |
The $1,500,000 – $2,000,000 Market:
| | | | | |
| --- | --- | --- | --- | --- |
| Date | NSDCC Active Listings | Avg. LP/sf | Avg. DOM | # of Pendings |
| Jan 3, 2022 | 8 | $842/sf | 52 | 36 |
| Jan 10 | 13 | $751/sf | 28 | 29 |
| Jan 17 | 16 | $736/sf | 33 | 27 |
| Jan 24 | 16 | $801/sf | 17 | 27 |
| Jan 31 | 15 | $696/sf | 14 | 34 |
| Feb 7 | 15 | $765/sf | 17 | 34 |
| Feb 14 | 10 | $726/sf | 19 | 38 |
| Feb 21 | 19 | $715/sf | 15 | 39 |
| Feb 28 | 9 | $660/sf | 12 | 46 |
| Mar 7 | 16 | $789/sf | 15 | 46 |
| Mar 14 | 17 | $837/sf | 8 | 44 |
| Mar 21 | 18 | $867/sf | 11 | 43 |
| Mar 28 | 14 | $838/sf | 15 | 48 |
| Apr 4 | 18 | $762/sf | 25 | 42 |
| Apr 11 | 23 | $774/sf | 15 | 39 |
| Apr 18 | 22 | $792/sf | 17 | 41 |
| Apr 25 | 18 | $810/sf | 20 | 41 |
| May 2 | 27 | $809/sf | 17 | 37 |
| May 9 | 33 | $837/sf | 17 | 46 |
| May 16 | 39 | $793/sf | 19 | 44 |
| May 23 | 43 | $793/sf | 22 | 44 |
| May 30 | 36 | $843/sf | 23 | 36 |
| Jun 6 | 43 | $817/sf | 23 | 41 |
| Jun 13 | 49 | $845/sf | 24 | 42 |
| Jun 20 | 57 | $817/sf | 24 | 41 |
| Jun 27 | 75 | $807/sf | 24 | 35 |
| Jul 4 | 70 | $827/sf | 27 | 33 |
| Jul 11 | 71 | $812/sf | 30 | 38 |
The $2,000,000 – $3,000,000 Market:
| | | | | |
| --- | --- | --- | --- | --- |
| Date | NSDCC Active Listings | Avg. LP/sf | Avg. DOM | # of Pendings |
| Jan 3, 2022 | 18 | $1,080/sf | 127 | 43 |
| Jan 10 | 23 | $1,038/sf | 85 | 37 |
| Jan 17 | 26 | $1,044/sf | 80 | 41 |
| Jan 24 | 28 | $1,015/sf | 37 | 42 |
| Jan 31 | 22 | $949/sf | 38 | 47 |
| Feb 7 | 26 | $919/sf | 29 | 42 |
| Feb 14 | 22 | $997/sf | 37 | 49 |
| Feb 21 | 21 | $966/sf | 33 | 54 |
| Feb 28 | 26 | $905/sf | 32 | 57 |
| Mar 7 | 29 | $922/sf | 28 | 57 |
| Mar 14 | 20 | $852/sf | 26 | 58 |
| Mar 21 | 17 | $928/sf | 26 | 60 |
| Mar 28 | 34 | $927/sf | 12 | 65 |
| Apr 4 | 32 | $927/sf | 20 | 69 |
| Apr 11 | 44 | $910/sf | 17 | 62 |
| Apr 18 | 48 | $997/sf | 19 | 66 |
| Apr 25 | 42 | $1,092/sf | 18 | 73 |
| May 2 | 54 | $995/sf | 19 | 70 |
| May 9 | 61 | $910/sf | 20 | 73 |
| May 16 | 64 | $977/sf | 22 | 69 |
| May 23 | 82 | $953/sf | 25 | 59 |
| May 30 | 78 | $951/sf | 27 | 56 |
| Jun 6 | 94 | $963/sf | 27 | 58 |
| Jun 13 | 98 | $961/sf | 28 | 70 |
| Jun 20 | 91 | $935/sf | 32 | 59 |
| Jun 27 | 111 | $894/sf | 30 | 60 |
| Jul 4 | 112 | $910/sf | 33 | 60 |
| Jul 11 | 122 | $912/sf | 34 | 56 |
The $3,000,000 – $4,000,000 Market:
| | | | | |
| --- | --- | --- | --- | --- |
| Date | NSDCC Active Listings | Avg. LP/sf | Avg. DOM | # of Pendings |
| Jan 3, 2022 | 19 | $1,230/sf | 90 | 26 |
| Jan 10 | 22 | $1,210/sf | 76 | 25 |
| Jan 17 | 19 | $1,207/sf | 86 | 23 |
| Jan 24 | 17 | $1,129/sf | 92 | 24 |
| Jan 31 | 21 | $1,172/sf | 70 | 22 |
| Feb 7 | 19 | $1,169/sf | 67 | 25 |
| Feb 14 | 19 | $1,234/sf | 65 | 28 |
| Feb 21 | 21 | $1,279/sf | 69 | 28 |
| Feb 28 | 22 | $1,214/sf | 64 | 25 |
| Mar 7 | 27 | $1,295/sf | 60 | 24 |
| Mar 14 | 27 | $1,201/sf | 65 | 27 |
| Mar 21 | 23 | $1,282/sf | 69 | 31 |
| Mar 28 | 25 | $1,253/sf | 67 | 30 |
| Apr 4 | 30 | $1,199/sf | 61 | 27 |
| Apr 11 | 32 | $1,174/sf | 62 | 31 |
| Apr 18 | 33 | $1,216/sf | 68 | 31 |
| Apr 25 | 33 | $1,219/sf | 63 | 33 |
| May 2 | 37 | $1,164/sf | 50 | 36 |
| May 9 | 33 | $1,132/sf | 57 | 32 |
| May 16 | 40 | $1,119/sf | 53 | 32 |
| May 23 | 40 | $1,135/sf | 57 | 27 |
| May 30 | 40 | $1,178/sf | 61 | 28 |
| Jun 6 | 43 | $1,224/sf | 56 | 28 |
| Jun 13 | 48 | $1,184/sf | 52 | 28 |
| Jun 20 | 52 | $1,117/sf | 53 | 26 |
| Jun 27 | 60 | $1,120/sf | 51 | 19 |
| Jul 4 | 55 | $1,127/sf | 58 | 23 |
| Jul 11 | 68 | $1,140/sf | 47 | 26 |
The $4,000,000+ Market:
| | | | | |
| --- | --- | --- | --- | --- |
| Date | NSDCC Active Listings | Avg. LP/sf | Avg. DOM | # of Pendings |
| Jan 3, 2022 | 100 | $1,884/sf | 128 | 30 |
| Jan 10 | 105 | $1,864/sf | 113 | 29 |
| Jan 17 | 109 | $1,763/sf | 110 | 34 |
| Jan 24 | 105 | $2,130/sf | 114 | 42 |
| Jan 31 | 102 | $2,114/sf | 118 | 53 |
| Feb 7 | 109 | $2,000/sf | 108 | 50 |
| Feb 14 | 108 | $2,005/sf | 109 | 47 |
| Feb 21 | 113 | $2,008/sf | 103 | 43 |
| Feb 28 | 111 | $1,991/sf | 101 | 47 |
| Mar 7 | 115 | $1,904/sf | 91 | 39 |
| Mar 14 | 121 | $1,893/sf | 95 | 43 |
| Mar 21 | 116 | $1,905/sf | 97 | 44 |
| Mar 28 | 104 | $1,966/sf | 97 | 59 |
| Apr 4 | 103 | $1,929/sf | 97 | 56 |
| Apr 11 | 106 | $1,906/sf | 97 | 55 |
| Apr 18 | 108 | $1,874/sf | 100 | 51 |
| Apr 25 | 116 | $1,829/sf | 97 | 38 |
| May 2 | 117 | $1,781/sf | 95 | 32 |
| May 9 | 116 | $1,831/sf | 96 | 36 |
| May 16 | 124 | $1,854/sf | 91 | 39 |
| May 23 | 125 | $1,855/sf | 92 | 36 |
| May 30 | 129 | $1,706/sf | 93 | 39 |
| Jun 6 | 131 | $1,740/sf | 89 | 33 |
| Jun 13 | 132 | $1,793/sf | 86 | 38 |
| Jun 20 | 148 | $1,772/sf | 84 | 35 |
| Jun 27 | 153 | $1,779/sf | 87 | 29 |
| Jul 4 | 155 | $1,777/sf | 82 | 25 |
| Jul 11 | 164 | $1,759/sf | 85 | 26 |
NSDCC Weekly New Listings and New Pendings
| | | | | |
| --- | --- | --- | --- | --- |
| Week | New Listings | New Pendings | Total Actives | Total Pendings |
| Jan 3, 2022 | 17 | 14 | 152 | 164 |
| Jan 10 | 39 | 18 | 167 | 142 |
| Jan 17 | 34 | 29 | 179 | 145 |
| Jan 24 | 41 | 40 | 173 | 157 |
| Jan 31 | 43 | 40 | 173 | 182 |
| Feb 7 | 43 | 38 | 179 | 179 |
| Feb 14 | 44 | 49 | 168 | 193 |
| Feb 21 | 51 | 38 | 180 | 197 |
| Feb 28 | 39 | 39 | 179 | 205 |
| Mar 7 | 54 | 37 | 191 | 195 |
| Mar 14 | 48 | 51 | 195 | 196 |
| Mar 21 | 39 | 46 | 178 | 207 |
| Mar 28 | 53 | 50 | 185 | 224 |
| Apr 4 | 46 | 40 | 190 | 220 |
| Apr 11 | 61 | 39 | 221 | 213 |
| Apr 18 | 41 | 46 | 224 | 212 |
| Apr 25 | 50 | 43 | 224 | 205 |
| May 2 | 76 | 37 | 256 | 196 |
| May 9 | 59 | 46 | 262 | 207 |
| May 16 | 78 | 48 | 286 | 200 |
| May 23 | 61 | 42 | 312 | 192 |
| May 30 | 54 | 44 | 307 | 183 |
| Jun 6 | 70 | 31 | 338 | 183 |
| Jun 13 | 60 | 41 | 354 | 202 |
| Jun 20 | 71 | 25 | 388 | 177 |
| Jun 27 | 73 | 26 | 433 | 159 |
| Jul 4 | 55 | 39 | 432 | 158 |
| Jul 11 | 55 | 24 | 471 | 161 |