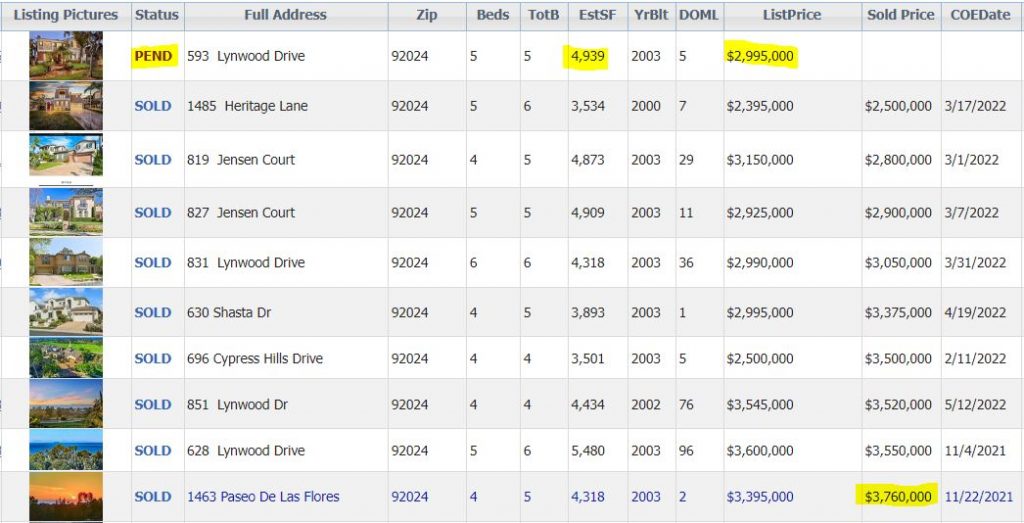 Let's revisit Encinitas Ranch for an example of how the zestimates will affect the post-frenzy era.  Consider the ER comps since my $3,760,000 sale closed in November.
This is where the algorithms should perform beautifully because there have been eight sales of similar tract houses built at the same time on similar sized lots and views.  All eight of these sales closed at prices at least $200,000 below my sale.
If zestimates are accurate, ours should have dropped to at least $3,500,000, and there is a model-match sale at $3,050,000 in March – the height of the frenzy.
What does Zillow think?
What they are doing to the marketplace should be criminal, because buyers and sellers both want a quick value check to verify their hopes and dreams – yet even in the very typical tract neighborhoods, the zestimates tend to be way off.
What's worse is once a home goes on the open market, they reset their zestimate to be close to the list price so no one can tell how wrong they are.
Is it feasible that the traditional way we've determined home values gets phased out, and we just let our masters shove garbage down our throats? Absolutely, and because the real estate cycles have been eliminated, we won't know the difference.