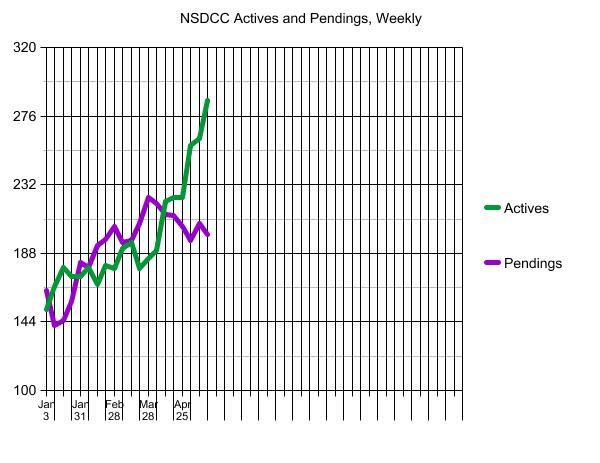 Everyone complained that we had no inventory….well, we have more now!  But the 286 active listings today is still well under the 349 actives that we had last year at this time, and more listings should cause more sales.
We'll see if the slight pause in the market can be attributed to the usual graduation-season malaise, or if a full-blown buyers' strike is underway.
This isn't the only measuring stick, but it appears that pricing has been settling down: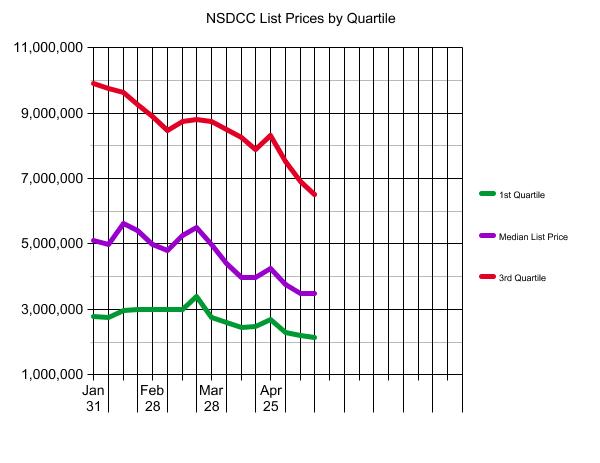 Most sellers are going to wait it out, or cancel their listing – neither of which will satisfy the buyers who are hoping for a major adjustment.
~~~~~~~~~~~~~~~~~~~~~~~~~~~~~~~~~~~
The $0 – $1,500,000 Market:
| | | | | |
| --- | --- | --- | --- | --- |
| Date | NSDCC Active Listings | Avg. LP/sf | Avg. DOM | # of Pendings |
| Jan 3, 2022 | 9 | $832/sf | 35 | 36 |
| Jan 10 | 9 | $766/sf | 28 | 29 |
| Jan 17 | 13 | $773/sf | 26 | 27 |
| Jan 24 | 9 | $818/sf | 15 | 29 |
| Jan 31 | 14 | $752/sf | 14 | 31 |
| Feb 7 | 13 | $774/sf | 12 | 32 |
| Feb 14 | 11 | $826/sf | 12 | 35 |
| Feb 21 | 7 | $889/sf | 17 | 38 |
| Feb 28 | 12 | $888/sf | 17 | 33 |
| Mar 7 | 9 | $1,017/sf | 21 | 33 |
| Mar 14 | 14 | $847/sf | 18 | 31 |
| Mar 21 | 8 | $912/sf | 26 | 36 |
| Mar 28 | 10 | $914/sf | 25 | 28 |
| Apr 4 | 10 | $782/sf | 33 | 34 |
| Apr 11 | 19 | $733/sf | 21 | 36 |
| Apr 18 | 16 | $795/sf | 28 | 34 |
| Apr 25 | 18 | $891/sf | 27 | 30 |
| May 2 | 22 | $822/sf | 23 | 31 |
| May 9 | 24 | $887/sf | 17 | 46 |
| May 16 | 25 | $783/sf | 22 | 25 |
The $1,500,000 – $2,000,000 Market:
| | | | | |
| --- | --- | --- | --- | --- |
| Date | NSDCC Active Listings | Avg. LP/sf | Avg. DOM | # of Pendings |
| Jan 3, 2022 | 8 | $842/sf | 52 | 36 |
| Jan 10 | 13 | $751/sf | 28 | 29 |
| Jan 17 | 16 | $736/sf | 33 | 27 |
| Jan 24 | 16 | $801/sf | 17 | 27 |
| Jan 31 | 15 | $696/sf | 14 | 34 |
| Feb 7 | 15 | $765/sf | 17 | 34 |
| Feb 14 | 10 | $726/sf | 19 | 38 |
| Feb 21 | 19 | $715/sf | 15 | 39 |
| Feb 28 | 9 | $660/sf | 12 | 46 |
| Mar 7 | 16 | $789/sf | 15 | 46 |
| Mar 14 | 17 | $837/sf | 8 | 44 |
| Mar 21 | 18 | $867/sf | 11 | 43 |
| Mar 28 | 14 | $838/sf | 15 | 48 |
| Apr 4 | 18 | $762/sf | 25 | 42 |
| Apr 11 | 23 | $774/sf | 15 | 39 |
| Apr 18 | 22 | $792/sf | 17 | 41 |
| Apr 25 | 18 | $810/sf | 20 | 41 |
| May 2 | 27 | $809/sf | 17 | 37 |
| May 9 | 33 | $837/sf | 17 | 46 |
| May 16 | 39 | $793/sf | 19 | 44 |
The $2,000,000 – $3,000,000 Market:
| | | | | |
| --- | --- | --- | --- | --- |
| Date | NSDCC Active Listings | Avg. LP/sf | Avg. DOM | # of Pendings |
| Jan 3, 2022 | 18 | $1,080/sf | 127 | 43 |
| Jan 10 | 23 | $1,038/sf | 85 | 37 |
| Jan 17 | 26 | $1,044/sf | 80 | 41 |
| Jan 24 | 28 | $1,015/sf | 37 | 42 |
| Jan 31 | 22 | $949/sf | 38 | 47 |
| Feb 7 | 26 | $919/sf | 29 | 42 |
| Feb 14 | 22 | $997/sf | 37 | 49 |
| Feb 21 | 21 | $966/sf | 33 | 54 |
| Feb 28 | 26 | $905/sf | 32 | 57 |
| Mar 7 | 29 | $922/sf | 28 | 57 |
| Mar 14 | 20 | $852/sf | 26 | 58 |
| Mar 21 | 17 | $928/sf | 26 | 60 |
| Mar 28 | 34 | $927/sf | 12 | 65 |
| Apr 4 | 32 | $927/sf | 20 | 69 |
| Apr 11 | 44 | $910/sf | 17 | 62 |
| Apr 18 | 48 | $997/sf | 19 | 66 |
| Apr 25 | 42 | $1,092/sf | 18 | 73 |
| May 2 | 54 | $995/sf | 19 | 70 |
| May 9 | 61 | $910/sf | 20 | 73 |
| May 16 | 64 | $977/sf | 22 | 69 |
The $3,000,000 – $4,000,000 Market:
| | | | | |
| --- | --- | --- | --- | --- |
| Date | NSDCC Active Listings | Avg. LP/sf | Avg. DOM | # of Pendings |
| Jan 3, 2022 | 19 | $1,230/sf | 90 | 26 |
| Jan 10 | 22 | $1,210/sf | 76 | 25 |
| Jan 17 | 19 | $1,207/sf | 86 | 23 |
| Jan 24 | 17 | $1,129/sf | 92 | 24 |
| Jan 31 | 21 | $1,172/sf | 70 | 22 |
| Feb 7 | 19 | $1,169/sf | 67 | 25 |
| Feb 14 | 19 | $1,234/sf | 65 | 28 |
| Feb 21 | 21 | $1,279/sf | 69 | 28 |
| Feb 28 | 22 | $1,214/sf | 64 | 25 |
| Mar 7 | 27 | $1,295/sf | 60 | 24 |
| Mar 14 | 27 | $1,201/sf | 65 | 27 |
| Mar 21 | 23 | $1,282/sf | 69 | 31 |
| Mar 28 | 25 | $1,253/sf | 67 | 30 |
| Apr 4 | 30 | $1,199/sf | 61 | 27 |
| Apr 11 | 32 | $1,174/sf | 62 | 31 |
| Apr 18 | 33 | $1,216/sf | 68 | 31 |
| Apr 25 | 33 | $1,219/sf | 63 | 33 |
| May 2 | 37 | $1,164/sf | 50 | 36 |
| May 9 | 33 | $1,132/sf | 57 | 32 |
| May 16 | 40 | $1,119/sf | 53 | 32 |
The $4,000,000+ Market:
| | | | | |
| --- | --- | --- | --- | --- |
| Date | NSDCC Active Listings | Avg. LP/sf | Avg. DOM | # of Pendings |
| Jan 3, 2022 | 100 | $1,884/sf | 128 | 30 |
| Jan 10 | 105 | $1,864/sf | 113 | 29 |
| Jan 17 | 109 | $1,763/sf | 110 | 34 |
| Jan 24 | 105 | $2,130/sf | 114 | 42 |
| Jan 31 | 102 | $2,114/sf | 118 | 53 |
| Feb 7 | 109 | $2,000/sf | 108 | 50 |
| Feb 14 | 108 | $2,005/sf | 109 | 47 |
| Feb 21 | 113 | $2,008/sf | 103 | 43 |
| Feb 28 | 111 | $1,991/sf | 101 | 47 |
| Mar 7 | 115 | $1,904/sf | 91 | 39 |
| Mar 14 | 121 | $1,893/sf | 95 | 43 |
| Mar 21 | 116 | $1,905/sf | 97 | 44 |
| Mar 28 | 104 | $1,966/sf | 97 | 59 |
| Apr 4 | 103 | $1,929/sf | 97 | 56 |
| Apr 11 | 106 | $1,906/sf | 97 | 55 |
| Apr 18 | 108 | $1,874/sf | 100 | 51 |
| Apr 25 | 116 | $1,829/sf | 97 | 38 |
| May 2 | 117 | $1,781/sf | 95 | 32 |
| May 9 | 116 | $1,831/sf | 96 | 36 |
| May 16 | 124 | $1,855/sf | 92 | 36 |
NSDCC Weekly New Listings and New Pendings
| | | | | |
| --- | --- | --- | --- | --- |
| Week | New Listings | New Pendings | Total Actives | Total Pendings |
| Jan 3, 2022 | 17 | 14 | 152 | 164 |
| Jan 10 | 39 | 18 | 167 | 142 |
| Jan 17 | 34 | 29 | 179 | 145 |
| Jan 24 | 41 | 40 | 173 | 157 |
| Jan 31 | 43 | 40 | 173 | 182 |
| Feb 7 | 43 | 38 | 179 | 179 |
| Feb 14 | 44 | 49 | 168 | 193 |
| Feb 21 | 51 | 38 | 180 | 197 |
| Feb 28 | 39 | 39 | 179 | 205 |
| Mar 7 | 54 | 37 | 191 | 195 |
| Mar 14 | 48 | 51 | 195 | 196 |
| Mar 21 | 39 | 46 | 178 | 207 |
| Mar 28 | 53 | 50 | 185 | 224 |
| Apr 4 | 46 | 40 | 190 | 220 |
| Apr 11 | 61 | 39 | 221 | 213 |
| Apr 18 | 41 | 46 | 224 | 212 |
| Apr 25 | 50 | 43 | 224 | 205 |
| May 2 | 76 | 37 | 256 | 196 |
| May 9 | 59 | 46 | 262 | 207 |
| May 16 | 78 | 48 | 286 | 200 |