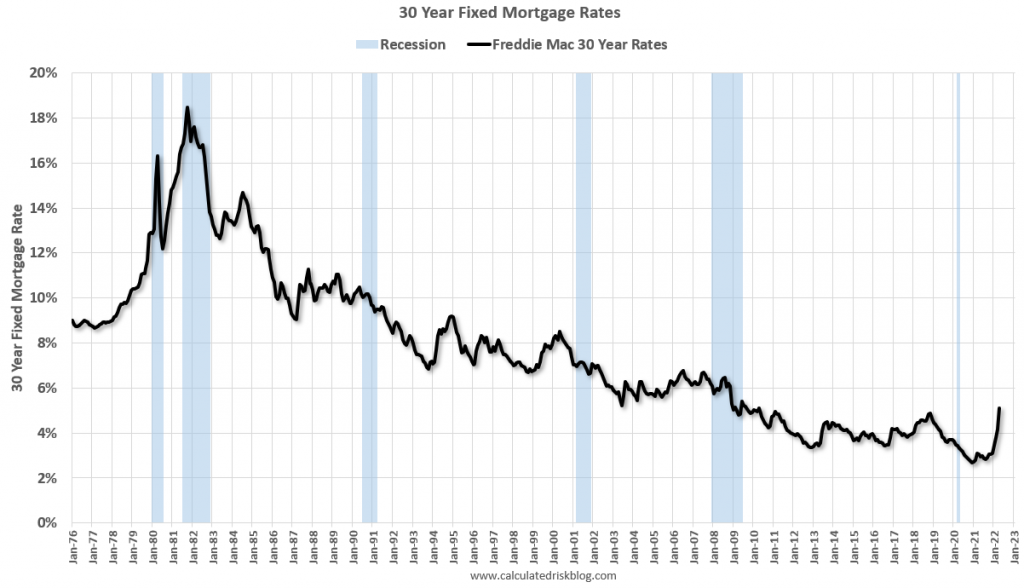 I suggested that mortgage rates should settle into the 4.75% to 5.50% range, and Bill at CR thinks the range will be 5.0% to 5.7%.  Today's rates are in the low 5s, so we have arrived and buyers should not feel the need to hurry up – but it will be bumpy over the next few months. Those with a short runway can opt for 2.375% for ten years.
Currently most forecasts are for the Fed Funds rate to rise to around 3.25%. Goldman Sach's chief economist Jan Hatzius recently said he thinks the Fed may have to raise rates above 4%, although their baseline forecast is just about 3%.
When the Fed Funds rate peaks in this cycle, the yield curve will likely be fairly flat – meaning the 10-year treasury yield will be at about the same level as the Fed Funds rate. Based on the current estimate for the peak Fed Funds rate (3.25% to 4.0%), the 30-year fixed mortgage will likely peak at between 5.0% and 5.7%. There is some variability in the relationship, so we might see rates as high as the low 6% range. (This all depends on inflation and the Fed Funds rate – but I don't expect rates to move much higher than the current rate – although 6% is possible).
Of course, rates are still historically low. But rates are up sharply from the recent lows, and my view is the change in rates is what will impact housing (see my post last month: Housing, the Fed, Interest Rates and Inflation; Housing is a key transmission mechanism for the FOMC).