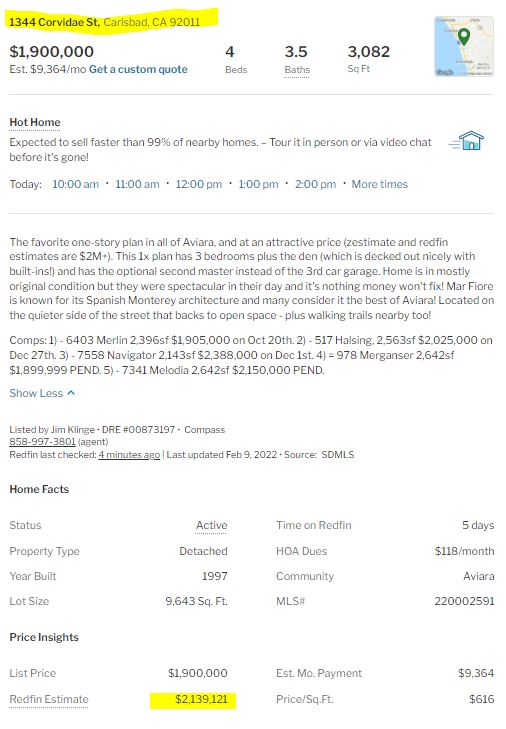 We see on every listing how the estimated values jump all over the place.
On my Aviara listing, the initial estimate was $2,247,615, but once the home hit the open market, the red team lowered their estimate by $313,637 to $1,933,978. A few days later, they have INCREASED it by $205,143 to $2,139,121…….which are some wild swings in less than a week!
It appears that the automated valuations can be wrong by 10% to 20%, and the guys behind the curtain are manipulating them as needed. A scary thought if people are relying on them.
Do people rely on them?
There are probably buyers who are believers, and use them to decide how much to pay for a home.
But it's even worse for sellers.  It's been happening more and more that home sellers are putting more faith in their zestimate and Redfin estimate. If those estimates are higher than what their agent tells them, of course they want to list for a higher price and they wave around their computerized values as proof.
In today's frenzy it may not seem to matter much, but there will come a day when accurate valuations will become more necessary.
Or will it?
Rob talks about the changes being made to the GSE's underwriting guidelines below.
Fannie Mae and Freddie Mac are issuing more appraisal waivers based on automated property valuations! Usually it's because the down payment is sufficient enough that they aren't that worried about a default.  But once the guidelines are changed, won't it just be a matter of time before appraisals as we knew them become extinct?