Housing bulls on Wall Street argue that this is an upturn that could last for a decade. Millions of millennials are now at a point in their lives when they are seeking single-family homes in the suburbs and exurbs. They are in good shape too. Almost 70 percent of homebuyers who took out new mortgages in the third quarter had credit scores above 760, according to the Federal Reserve Bank of New York.
~~~~~~~~~~~~~~~~~~~~~~~~~~~~~~~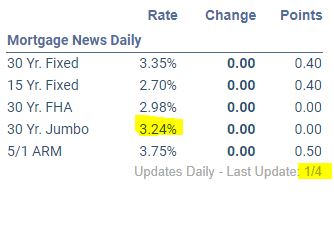 Mortgage rates started off the year at the "highest rates in 9 months", but aren't insanely higher than anything we saw last week.  From the lowest rates over the past 2 months, today's are roughly a quarter of a point higher.
~~~~~~~~~~~~~~~~~~~~~~~~~~~~~~~
From Bill:
As of December 31st, inventory was at 294 thousand (7-day average), compared to 420 thousand for the same week a year ago.  That is a decline of 30.0%. Inventory is down 5.4% from last week.
Compared to the same week in 2019, inventory is down 61.5% from 764 thousand.  A week ago, inventory was at 310 thousand, and was down 29.0% YoY.
Seasonally, inventory bottomed in April (usually inventory bottoms in January or February). Inventory last week was about 4.2% below the previous record low set-in early April 2021.
Inventory peaked for the year in early September, when inventory was at 437 thousand (the peak for the year), so inventory is currently off about 32.8% from the peak for 2021.
~~~~~~~~~~~~~~~~~~~~~~~~~~~~~~
Architectural Digest says the biggest design trends for 2022 will include the desire for more earthy-related color tones, contemporary conservatories, a greater attention to sensory qualities, not purely esthetics, and more curves…..
~~~~~~~~~~~~~~~~~~~~~~~~~~~~~~~
The world's population is currently estimated to be at 7.8 billion people. According to some estimates, the global population should peak at around 9.7 billion in 2064. Imagine how many homes need to be built to house almost 2 BILLION extra people over 40 years! If 4 people share a home, that equates to about 12 million new homes per year! Then, population could fall to 8.79 billion in 2100…..maybe a good year to wait to buy a new home?