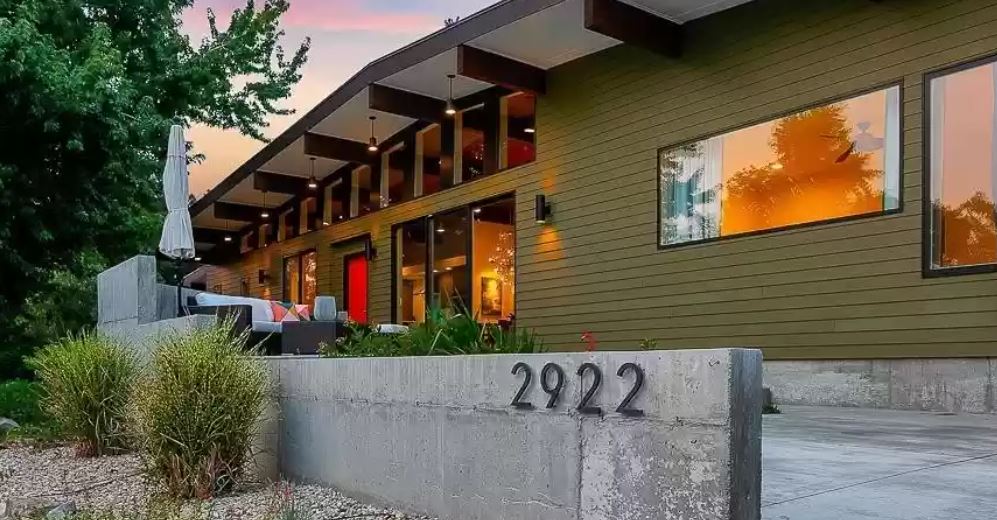 Susie filed this frenzy report on July 8th:
I think Boise might have topped out but I'm waiting for September. Summers are usually slow here. But the last one put on the market here, a couple streets over in my Movado subdivision was listed for $949,900 (about 2,500sf). We thought it was listed too high. The guy said he was moving to NC to be w/ his grandkids. Two offers: 1. $949,900 but willing to go to $965K. 2. Offer at last minute on a Sunday after an open house? Agent said the 2nd person "just had to have it. Couldn't wait to "get out of Walnut Creek". So I have to wait until it closes but can't wait to talk to them. Walnut Creek is right near Orinda, where I grew up.
There is more inventory here than before, but it still seems like pendings are fast. I'd say the frenzy of multiple offers has cooled off. There may still be multiples but the craziness seems much less.
Then about three weeks ago, she sent in this modern one-story for sale:
https://www.realtor.com/realestateandhomes-detail/2922-E-Starview-Dr_Boise_ID_83712_M19130-37790
This 2015 Trout Architects designed home on the Mesa is built w/ midcentury passion + modern amenities. The single-level home features sunset & city-lights from abundant windows. Tongue & groove ceilings + post & beam construction create open central living spaces w/ generous bedrooms on either side. The front patio is accessible through separate sliders. Private side yard lies outside your 2nd living room. Street setback affords quiet living & indoor/outdoor spaces let you experience the frequent wildlife.
The initial pricing of $500/sf may have been somewhat aggressive by Boise standards, but you'd think one of those Californians with buckets full of money would have gladly paid it for a six-year old turnkey-ready one-story with designer flair.
But no takers in the first two weeks on the market, so they lowered the price by $71,000 on August 4th.
It's still unsold.
A few thoughts:
When you see newer one-story homes not selling, then the frenzy deserves to be questioned.
Now that the frenzy is moderating everywhere, it might take you 1-2 years to find the right home.
More buyers being patient means a slower, more deliberate market.
Future pricing will be determined by the seller's motivation, not bidding wars.
The sellers' motivation hasn't mattered in the covid era. Even those lowly-motivated sellers who priced their home way too high still got swept up in the frenzy. But not any more, and it starts in the higher-end markets where the inventory is full and the action more balanced.