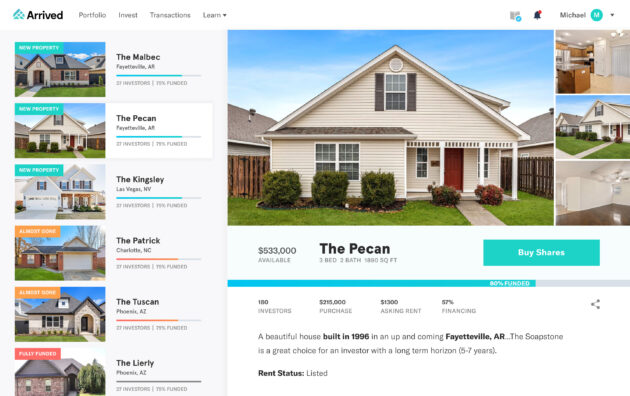 While these purchases will only be a sliver of the five million homes sold every year, they could add up over decades and help to keep the supply of homes for sale somewhat limited.
New funding: Seattle startup Arrived Homes raised $10 million in equity and $27 million in debt financing to help scale its tech-infused real estate model that lets people invest in single-family rental homes for as little as $100. The company's backers include the venture capital arms of Jeff Bezos (Bezos Expeditions) and Marc Benioff (Time Ventures); former Zillow Group CEO Spencer Rascoff; Uber CEO Dara Khosrowshahi, and other longtime tech execs.
The model: Arrived is a crowdfunding platform that allows anyone to purchase shares of rental properties and earn a passive income while the company handles everything from property acquisition to necessary improvements and management of daily operations.
The idea is to open up access to real estate investing beyond wealthy individuals and institutional investors, and use technology to help identify and manage rental properties. It's a model used by companies such as Pacaso, another new startup which raised $75 million in March and splits ownership of vacation homes into different pieces as part of an LLC, much like Arrived.
Arrived is not legally permitted to share projected returns but does provide historical data and an investment calculator, as well as case studies. Investors can invest up to $20,000 per house and are paid quarterly. Rental tenants also receive shares in the property. If Arrived sells a home, the proceeds are distributed to investors.
The business: The company makes money in a few different ways, including a commission paid by the original seller when Arrived first buys a home; by sourcing the property and preparing it for investment; and through management fees for its portfolio of homes, such as a 1% management fee on the money people invest.
The traction: Arrived has secured more than 30 properties across Arkansas, North Carolina, and South Carolina; 12 of those are full funded or reserved, with about $3 million in property value funded over the past three months. The company declined to provide revenue metrics or number of users. Arrived is focused on residential homes in the middle of the market that can provide strong cashflow and dividends to users, but is also planning to launch in places such as Austin and Seattle that have strong appreciation potential.
Read full article here:
https://www.geekwire.com/2021/arrived-gets-37m-funding-let-anyone-invest-home-rental-homes-starting-100-share/