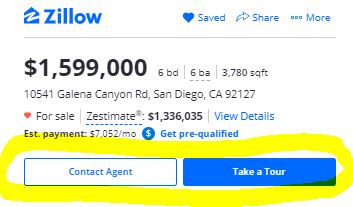 I also wanted to test the Zillow lead generator.
Now that they have buried the three Premier Agents at the bottom of the listing, how do consumers get more information – and from who do they get it?  They added the Contact Agent box at the top of the listing, which kind of makes you think you will be connected to the listing agent.  But that's not what happens (though I do get mentioned about halfway down without a phone number or link).
Once Zillow published the listing on Wednesday afternoon, I clicked on the Contact Agent to find out.
Within minutes I received a text – here is the thread: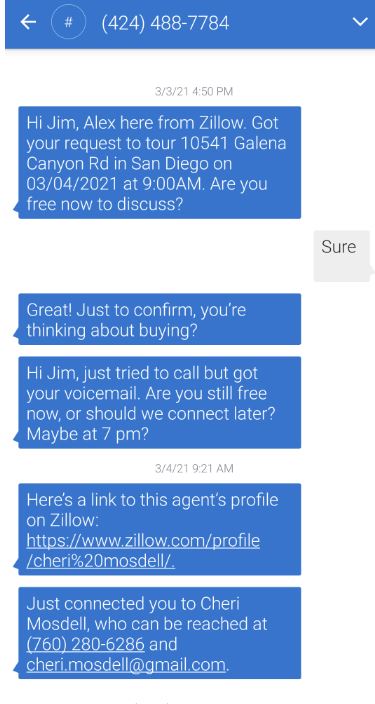 I was standing next to my phone and didn't hear any ringing, but it's possible he called.  I let it go for the rest of the night to see about their follow up, and indeed it began again on Thursday morning. A new guy connected me to Cheri, who didn't know anything about the house but was very nice.
Once our phone call was complete, I received this by email: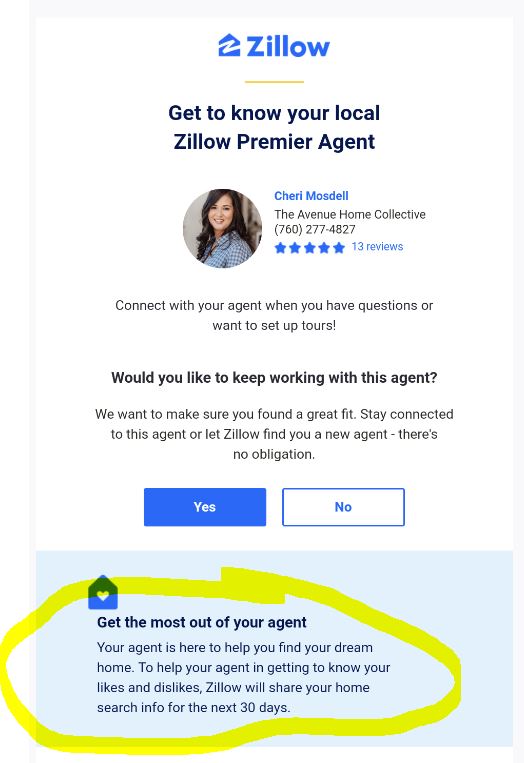 Coincidentally (or not?), one of the agents from The Avenue Home Collection did show my listing yesterday.  Because their office is nearby, their broker Melissa also stopped by. She is a 19-year veteran and was brought up in the business by old-school people like me, so we got along right away.
She confirmed what I've been thinking.
Zillow has selected a handful of brokerages with high customer-service ratings as partners.  Zillow has their own phone team make the first contact the consumer, then forward the call to one of the agents.
She didn't say how much she is paying, but it's not as much as the top Zillow agent in the area who she suspected is paying around $30,000 per month for the majority of the market share.  It's a ton of money to invest and be dependent upon the Zillow phone guys to serve up the leads fresh and hot.  The Zillow guy who called me was pathetic, though it was early (around 9am) and every phone solicitor will tell you that they need to warm up first. I was probably his first call?
They have only been Zillow partners for four months, so it's early. I told her to hang in there, because I am constantly amazed at how casual and naive the consumers are about selecting their realtor.  Because there isn't any transparency about an agent's skill level, people just grab one – and with Zillow's name recognition and horsepower, they should be able to convert viewers into buyers and sellers as well as anyone.
Realtor.com, RPR, HomeSnap, Compass, KW, CB, and others have said they might mount a challenge Zillow's search portal, but there isn't anyone close to spending the money on national advertising as Zillow.
It reminded me of this clip – Zillow is just waiting for a challenger – and the likely outcome: