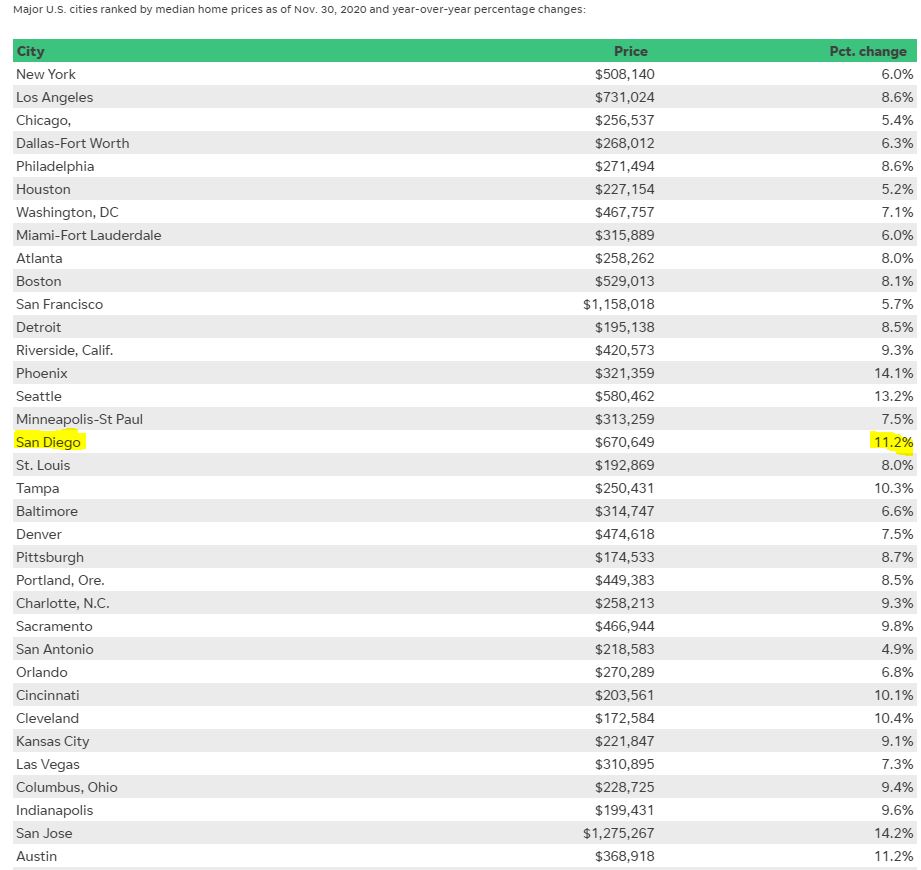 An excerpt from this article:
https://www.usatoday.com/in-depth/money/2021/02/04/homes-sale-we-housing-bubble-prices-outstrip-wages/6671282002/
For Mark Stapp, a real estate professor at Arizona State University, what's going on in the real estate market right now is not a bubble.
"The definition of a bubble is that when it pops, there's nothing there," Stapp said. "That's not this case. There's very real demand that exists and that's what's causing prices to increase."
Realtors across the country generally agree.
Mary Jo Santistevan, a top-producing sales associate with Berkshire Hathaway HomeServices in Phoenix, said buyers are flowing in from congested cities of California, Washington State and the Midwest. They are looking to take advantage of Arizona's lower home prices, lower property taxes and quality of life. But they are confronting a situation where inventories of unsold homes have been dropping steadily in recent years and are now teetering on a one-month supply in some areas and less than that in others.
"Even builders are struggling to keep up with demand," Santistevan said. "There's a 10-month wait time for construction. The majority of builders are using a lottery system. One builder in particular in Gilbert had a waitlist of 100 deep."
Stacie Lee, a fellow agent at Berkshire Hathaway, says whenever something goes on the market in Phoenix, the showings are usually back-to-back and a closing comes within a matter of days.
"Many homes go for $30,000 to $40,000 over list price and a few homes in the mid $300,000s have sold for $100,000 over list," Lee said. "A lot are going for cash. Cash is king right now."
Lee added that she had 70 people show up for an open house over the summer and had 15 offers in the first couple of hours. The home sold for $375,000 and is now back on the market at $550,000.
"There's a lot of investors flipping homes here," she said.
Nearly 3,000 miles away in Augusta, Maine, the housing market is just as frothy.
Fifteen of Maine's 16 counties experienced a 10% increase in median home prices in 2020, according to Aaron Bolster, president of the Maine Association of Realtors. Some of those counties saw leaps of 20% or more.
"We already knew Maine was popular," Bolster said. "More than 32 million people visit between Memorial Day and Labor Day. They don't typically come at this time of year. But in a pandemic, it's a safe place to be. The population density is very low and teleworking suddenly got popular in 2020."
Bolster said 25% of buyers in 2019 came from out of state. Last year, that number rose to 33%. Without a large housing stock to begin with, available listings got siphoned off pretty quickly as out of state buyers bid up the prices.
At the moment, there are only 6,000 homes for sale in the entire state, Bolster said, and half of them are under contract.
The situation is unique for Maine and Bolster is not sure how long it will last, especially given that the demand is driven by people coming from out of state – many of whom will presumably be able to work from home – and not by job creation within Maine's borders.
"Maine doesn't create a lot of new jobs," Bolster said. "When we create a new job, we give one up. So real estate doesn't usually appreciate that fast. It's interesting to see such a robust market when it's not really tied to economics."