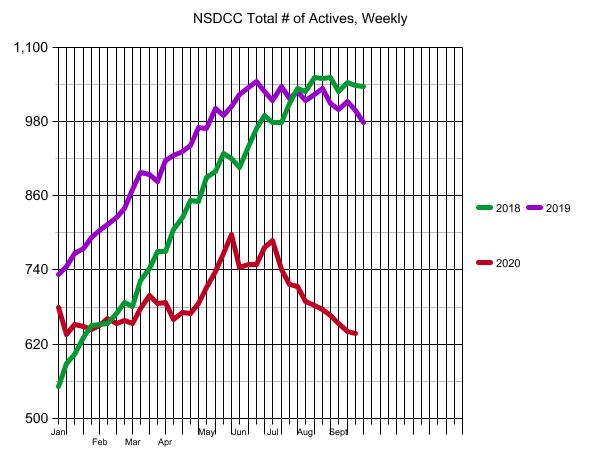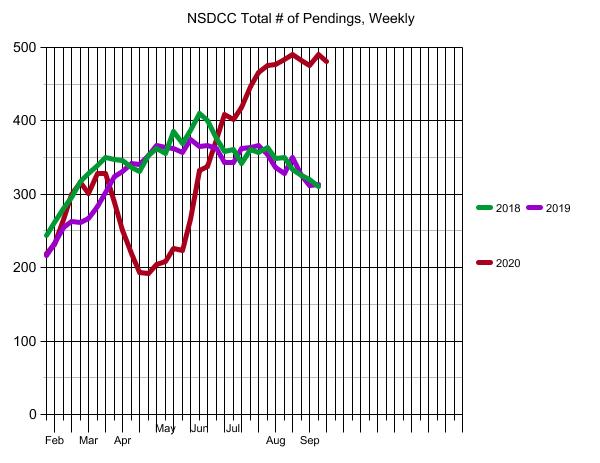 I think the Labor Day heat stroke showed up in the stats this week.
We only had 75 new listings between La Jolla and Carlsbad, and 70 new pendings, which is about a 20% drop from the last couple of weeks.  Or was it just the usual cooling off? We'll see next week!
The showings perked up the last few days, and are nearly 30% higher than last year: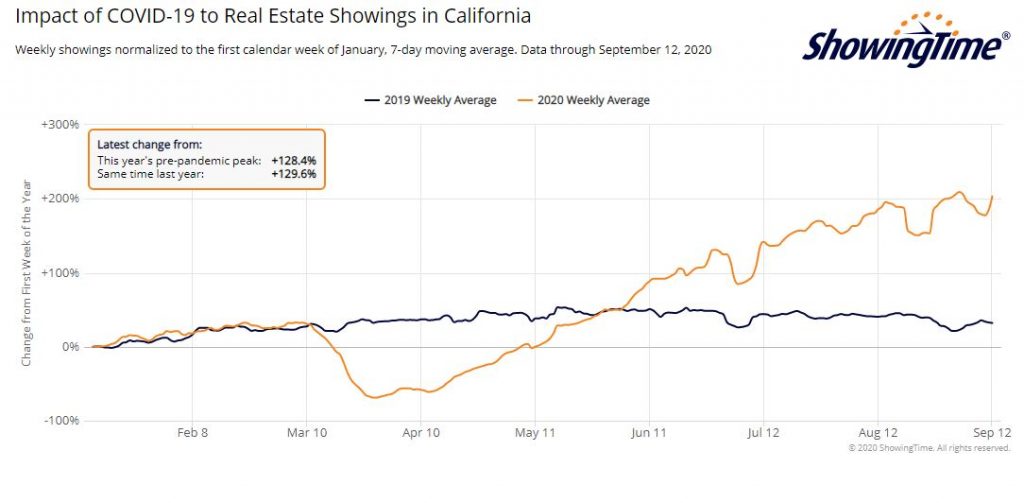 The number of active listings should keep dropping as the year winds down – we have probably seen the 2020 market peak for number of active listings.  But we could see the pendings count stay in this range for a few more weeks.
NSDCC Under $1,000,000 Market
| | | | | |
| --- | --- | --- | --- | --- |
| Date | NSDCC Active Listings | Avg. LP/sf | Avg. DOM | # of Pendings |
| Jan 7 | 72 | $469/sf | 55 | 49 |
| Jan 14 | 78 | $487/sf | 49 | 48 |
| Jan 21 | 82 | $488/sf | 49 | 49 |
| Jan 28 | 68 | $480/sf | 53 | 64 |
| Feb 4 | 72 | $483/sf | 53 | 69 |
| Feb 11 | 75 | $481/sf | 45 | 74 |
| Feb 18 | 67 | $482/sf | 46 | 76 |
| Feb 25 | 67 | $494/sf | 47 | 67 |
| Mar 4 | 82 | $478/sf | 38 | 64 |
| Mar 11 | 90 | $471/sf | 36 | 65 |
| Mar 18 | 95 | $475/sf | 37 | 69 |
| Mar 25 | 98 | $463/sf | 36 | 72 |
| Apr 1 | 94 | $462/sf | 38 | 71 |
| Apr 8 | 91 | $455/sf | 42 | 75 |
| Apr 15 | 93 | $463/sf | 42 | 75 |
| Apr 22 | 94 | $481/sf | 44 | 78 |
| Apr 29 | 99 | $469/sf | 43 | 84 |
| May 6 | 106 | $466/sf | 38 | 81 |
| May 13 | 102 | $470/sf | 38 | 78 |
| May 20 | 112 | $453/sf | 31 | 79 |
| May 27 | 110 | $464/sf | 34 | 80 |
| Jun 3 | 113 | $469/sf | 33 | 84 |
| Jun 10 | 109 | $463/sf | 36 | 88 |
| Jun 17 | 109 | $465/sf | 35 | 89 |
| Jun 24 | 105 | $474/sf | 37 | 84 |
| Jul 1 | 96 | $474/sf | 38 | 79 |
| Jul 8 | 89 | $472/sf | 46 | 85 |
| Jul 15 | 100 | $490/sf | 43 | 82 |
| Jul 22 | 94 | $494/sf | 44 | 84 |
| Jul 29 | 97 | $493/sf | 44 | 78 |
| Aug 5 | 99 | $490/sf | 43 | 69 |
| Aug 12 | 101 | $482/sf | 39 | 65 |
| Aug 19 | 103 | $487/sf | 39 | 64 |
| Aug 26 | 106 | $476/sf | 44 | 59 |
| Sep 2 | 96 | $471/sf | 48 | 59 |
| Sep 9 | 88 | $477/sf | 48 | 59 |
| Sep 16 | 94 | $474/sf | 41 | 56 |
| Sep 23 | 86 | $467/sf | 46 | 56 |
| Sep 30 | 84 | $467/sf | 50 | 58 |
| Oct 7 | 80 | $487/sf | 44 | 56 |
| Oct 14 | 82 | $478/sf | 44 | 54 |
| Oct 21 | 70 | $470/sf | 47 | 57 |
| Oct 28 | 66 | $458/sf | 44 | 52 |
| Nov 4 | 60 | $460/sf | 40 | 50 |
| Nov 11 | 71 | $462/sf | 44 | 56 |
| Nov 18 | 72 | $472/sf | 36 | 59 |
| Nov 25 | 66 | $473/sf | 39 | 61 |
| Dec 2 | 57 | $481/sf | 43 | 58 |
| Dec 9 | 58 | $458/sf | 38 | 48 |
| Dec 16 | 51 | $458/sf | 43 | 51 |
| Dec 23 | 46 | $463/sf | 46 | 49 |
| Dec 30 | 45 | $460/sf | 48 | 43 |
| Jan 6 | 40 | $453/sf | 51 | 40 |
| Jan 13 | 41 | $483/sf | 48 | 42 |
| Jan 20 | 37 | $467/sf | 51 | 51 |
| Jan 27 | 36 | $462/sf | 46 | 51 |
| Feb 3 | 30 | $464/sf | 51 | 52 |
| Feb 10 | 29 | $459/sf | 39 | 59 |
| Feb 17 | 31 | $451/sf | 37 | 60 |
| Feb 24 | 35 | $470/sf | 32 | 57 |
| Mar 2 | 23 | $454/sf | 42 | 54 |
| Mar 9 | 23 | $473/sf | 32 | 62 |
| Mar 16 | 30 | $476/sf | 31 | 59 |
| Mar 23 | 32 | $486/sf | 33 | 55 |
| Mar 30 | 40 | $475/sf | 32 | 44 |
| Apr 6 | 40 | $476/sf | 32 | 34 |
| Apr 13 | 45 | $486/sf | 31 | 32 |
| Apr 20 | 51 | $500/sf | 30 | 34 |
| Apr 27 | 49 | $485/sf | 31 | 43 |
| May 4 | 59 | $477/sf | 33 | 38 |
| May 11 | 64 | $485/sf | 34 | 43 |
| May 18 | 58 | $491/sf | 37 | 46 |
| May 25 | 56 | $480/sf | 35 | 58 |
| Jun 1 | 45 | $503/sf | 36 | 72 |
| Jun 8 | 44 | $478/sf | 37 | 75 |
| Jun 15 | 43 | $485/sf | 37 | 74 |
| Jun 22 | 42 | $474/sf | 31 | 79 |
| Jun 29 | 48 | $476/sf | 32 | 71 |
| Jul 6 | 38 | $459/sf | 38 | 69 |
| Jul 13 | 40 | $476/sf | 31 | 74 |
| Jul 20 | 34 | $475/sf | 33 | 73 |
| Jul 27 | 40 | $547/sf | 31 | 68 |
| Aug 3 | 39 | $531/sf | 30 | 69 |
| Aug 10 | 33 | $546/sf | 25 | 75 |
| Aug 17 | 28 | $533/sf | 22 | 67 |
| Aug 24 | 33 | $535/sf | 22 | 64 |
| Aug 31 | 30 | $552/sf | 27 | 62 |
| Sep 7 | 33 | $531/sf | 22 | 66 |
| Sep 14 | 30 | $529/sf | 26 | 60 |
The $1,000,000 – $1,500,000 Market:
| | | | | |
| --- | --- | --- | --- | --- |
| Date | NSDCC Active Listings | Avg. LP/sf | Avg. DOM | # of Pendings |
| Jan 7 | 154 | $497/sf | 58 | 69 |
| Jan 14 | 158 | $489/sf | 54 | 65 |
| Jan 21 | 161 | $503/sf | 55 | 56 |
| Jan 28 | 169 | $489/sf | 52 | 60 |
| Feb 4 | 167 | $502/sf | 50 | 69 |
| Feb 11 | 157 | $504/sf | 51 | 84 |
| Feb 18 | 168 | $494/sf | 47 | 83 |
| Feb 25 | 175 | $494/sf | 49 | 84 |
| Mar 4 | 174 | $507/sf | 44 | 86 |
| Mar 11 | 175 | $501/sf | 44 | 91 |
| Mar 18 | 194 | $526/sf | 43 | 99 |
| Mar 25 | 189 | $510/sf | 44 | 104 |
| Apr 1 | 188 | $513/sf | 45 | 107 |
| Apr 8 | 215 | $512/sf | 45 | 104 |
| Apr 15 | 211 | $515/sf | 46 | 108 |
| Apr 22 | 201 | $513/sf | 49 | 117 |
| Apr 29 | 193 | $507/sf | 49 | 128 |
| May 6 | 211 | $506/sf | 49 | 121 |
| May 13 | 201 | $497/sf | 52 | 131 |
| May 20 | 207 | $507/sf | 48 | 129 |
| May 27 | 198 | $513/sf | 49 | 133 |
| Jun 3 | 197 | $510/sf | 51 | 129 |
| Jun 10 | 204 | $511/sf | 50 | 129 |
| Jun 17 | 198 | $506/sf | 55 | 117 |
| Jun 24 | 192 | $510/sf | 55 | 120 |
| Jul 1 | 198 | $503/sf | 56 | 119 |
| Jul 8 | 186 | $512/sf | 58 | 123 |
| Jul 15 | 191 | $504/sf | 57 | 126 |
| Jul 22 | 189 | $498/sf | 57 | 125 |
| Jul 29 | 192 | $494/sf | 56 | 120 |
| Aug 5 | 186 | $498/sf | 52 | 119 |
| Aug 12 | 180 | $486/sf | 52 | 114 |
| Aug 19 | 179 | $493/sf | 50 | 127 |
| Aug 26 | 183 | $518/sf | 45 | 120 |
| Sep 2 | 184 | $517/sf | 46 | 105 |
| Sep 9 | 182 | $508/sf | 48 | 105 |
| Sep 16 | 188 | $515/sf | 47 | 100 |
| Sep 23 | 185 | $530/sf | 46 | 93 |
| Sep 30 | 179 | $532/sf | 49 | 95 |
| Oct 7 | 179 | $533/sf | 50 | 97 |
| Oct 14 | 171 | $546/sf | 55 | 94 |
| Oct 21 | 165 | $551/sf | 55 | 99 |
| Oct 28 | 160 | $545/sf | 54 | 103 |
| Nov 4 | 151 | $541/sf | 53 | 103 |
| Nov 11 | 147 | $545/sf | 57 | 104 |
| Nov 18 | 142 | $563/sf | 58 | 103 |
| Nov 25 | 133 | $583/sf | 60 | 109 |
| Dec 2 | 125 | $559/sf | 64 | 108 |
| Dec 9 | 122 | $567/sf | 63 | 95 |
| Dec 16 | 111 | $566/sf | 62 | 90 |
| Dec 23 | 98 | $594/sf | 66 | 81 |
| Dec 30 | 94 | $597/sf | 70 | 70 |
| Jan 6 | 89 | $615/sf | 67 | 72 |
| Jan 13 | 93 | $598/sf | 65 | 71 |
| Jan 20 | 87 | $612/sf | 66 | 73 |
| Jan 27 | 93 | $589/sf | 59 | 65 |
| Feb 3 | 96 | $576/sf | 54 | 65 |
| Feb 10 | 94 | $559/sf | 62 | 84 |
| Feb 17 | 80 | $542/sf | 64 | 100 |
| Feb 24 | 90 | $530/sf | 61 | 97 |
| Mar 2 | 93 | $529/sf | 56 | 91 |
| Mar 9 | 100 | $537/sf | 46 | 98 |
| Mar 16 | 101 | $521/sf | 44 | 105 |
| Mar 23 | 111 | $522/sf | 44 | 90 |
| Mar 30 | 114 | $528/sf | 43 | 75 |
| Apr 6 | 115 | $528/sf | 50 | 69 |
| Apr 13 | 116 | $525/sf | 48 | 58 |
| Apr 20 | 118 | $539/sf | 52 | 57 |
| Apr 27 | 121 | $538/sf | 48 | 64 |
| May 4 | 122 | $524/sf | 50 | 72 |
| May 11 | 128 | $519/sf | 46 | 77 |
| May 18 | 151 | $520/sf | 40 | 69 |
| May 25 | 152 | $535/sf | 43 | 87 |
| Jun 1 | 147 | $540/sf | 42 | 109 |
| Jun 8 | 149 | $530/sf | 44 | 115 |
| Jun 15 | 146 | $518/sf | 42 | 125 |
| Jun 22 | 160 | $522/sf | 36 | 133 |
| Jun 29 | 153 | $524/sf | 35 | 137 |
| Jul 6 | 133 | $525/sf | 38 | 150 |
| Jul 13 | 127 | $526/sf | 36 | 152 |
| Jul 20 | 122 | $542/sf | 34 | 158 |
| Jul 27 | 122 | $544/sf | 37 | 169 |
| Aug 3 | 112 | $559/sf | 37 | 154 |
| Aug 10 | 120 | $551/sf | 33 | 151 |
| Aug 17 | 113 | $608/sf | 33 | 158 |
| Aug 24 | 99 | $603/sf | 34 | 158 |
| Aug 31 | 94 | $600/sf | 35 | 146 |
| Sep 7 | 87 | $567/sf | 28 | 157 |
| Sep 14 | 79 | $559/sf | 31 | 156 |
The $1,500,000 – $2,000,000 Market:
| | | | | |
| --- | --- | --- | --- | --- |
| Date | NSDCC Active Listings | Avg. LP/sf | Avg. DOM | # of Pendings |
| Jan 7 | 108 | $628/sf | 86 | 33 |
| Jan 14 | 107 | $647/sf | 83 | 37 |
| Jan 21 | 113 | $665/sf | 77 | 39 |
| Jan 28 | 116 | $676/sf | 76 | 42 |
| Feb 4 | 125 | $665/sf | 73 | 41 |
| Feb 11 | 131 | $670/sf | 72 | 43 |
| Feb 18 | 132 | $674/sf | 71 | 49 |
| Feb 25 | 130 | $670/sf | 66 | 53 |
| Mar 4 | 134 | $677/sf | 59 | 59 |
| Mar 11 | 143 | $674/sf | 57 | 53 |
| Mar 18 | 143 | $649/sf | 56 | 67 |
| Mar 25 | 133 | $642/sf | 56 | 66 |
| Apr 1 | 131 | $621/sf | 53 | 69 |
| Apr 8 | 139 | $618/sf | 49 | 77 |
| Apr 15 | 149 | $630/sf | 50 | 75 |
| Apr 22 | 145 | $616/sf | 50 | 72 |
| Apr 29 | 148 | $605/sf | 49 | 77 |
| May 6 | 157 | $606/sf | 48 | 74 |
| May 13 | 159 | $599/sf | 47 | 72 |
| May 20 | 170 | $612/sf | 48 | 73 |
| May 27 | 165 | $595/sf | 50 | 79 |
| Jun 3 | 172 | $607/sf | 52 | 70 |
| Jun 10 | 181 | $604/sf | 52 | 70 |
| Jun 17 | 186 | $610/sf | 56 | 69 |
| Jun 24 | 197 | $616/sf | 56 | 59 |
| Jul 1 | 195 | $600/sf | 58 | 65 |
| Jul 8 | 191 | $610/sf | 58 | 71 |
| Jul 15 | 194 | $601/sf | 58 | 69 |
| Jul 22 | 189 | $608/sf | 58 | 74 |
| Jul 29 | 194 | $606/sf | 60 | 73 |
| Aug 5 | 203 | $614/sf | 61 | 67 |
| Aug 12 | 207 | $612/sf | 64 | 65 |
| Aug 19 | 199 | $596/sf | 64 | 79 |
| Aug 26 | 200 | $598/sf | 64 | 79 |
| Sep 2 | 203 | $614/sf | 62 | 69 |
| Sep 9 | 195 | $600/sf | 66 | 73 |
| Sep 16 | 198 | $596/sf | 66 | 65 |
| Sep 23 | 197 | $590/sf | 68 | 75 |
| Sep 30 | 191 | $596/sf | 68 | 74 |
| Oct 7 | 184 | $608/sf | 70 | 77 |
| Oct 14 | 177 | $608/sf | 61 | 79 |
| Oct 21 | 177 | $600/sf | 62 | 71 |
| Oct 28 | 177 | $580/sf | 61 | 67 |
| Nov 4 | 170 | $595/sf | 62 | 67 |
| Nov 11 | 162 | $590/sf | 66 | 71 |
| Nov 18 | 150 | $602/sf | 69 | 70 |
| Nov 25 | 141 | $605/sf | 69 | 74 |
| Dec 2 | 130 | $600/sf | 69 | 73 |
| Dec 9 | 134 | $618/sf | 65 | 63 |
| Dec 16 | 126 | $620/sf | 70 | 59 |
| Dec 23 | 125 | $612/sf | 77 | 53 |
| Dec 30 | 113 | $627/sf | 79 | 62 |
| Jan 6 | 113 | $605/sf | 71 | 57 |
| Jan 13, 2020 | 113 | $664/sf | 67 | 59 |
| Jan 20 | 113 | $658/sf | 61 | 50 |
| Jan 27 | 103 | $654/sf | 66 | 59 |
| Feb 3 | 104 | $664/sf | 60 | 59 |
| Feb 10 | 110 | $667/sf | 54 | 62 |
| Feb 17 | 111 | $650/sf | 55 | 72 |
| Feb 24 | 110 | $634/sf | 60 | 76 |
| Mar 2 | 115 | $644/sf | 51 | 77 |
| Mar 9 | 121 | $665/sf | 50 | 80 |
| Mar 16 | 125 | $665/sf | 49 | 79 |
| Mar 23 | 119 | $665/sf | 52 | 70 |
| Mar 30 | 126 | $660/sf | 51 | 59 |
| Apr 6 | 130 | $650/sf | 51 | 56 |
| Apr 13 | 132 | $646/sf | 56 | 49 |
| Apr 20 | 138 | $658/sf | 53 | 47 |
| Apr 27 | 157 | $668/sf | 53 | 47 |
| May 4 | 151 | $665/sf | 59 | 53 |
| May 11 | 150 | $650/sf | 63 | 60 |
| May 18 | 156 | $650/sf | 64 | 58 |
| May 25 | 169 | $643/sf | 61 | 61 |
| Jun 1 | 162 | $655/sf | 62 | 76 |
| Jun 8 | 168 | $655/sf | 64 | 70 |
| Jun 15 | 161 | $668/sf | 61 | 84 |
| Jun 22 | 170 | $678/sf | 56 | 96 |
| Jun 29 | 170 | $686/sf | 59 | 94 |
| Jul 6 | 160 | $700/sf | 60 | 92 |
| Jul 13 | 155 | $683/sf | 56 | 106 |
| Jul 20 | 156 | $692/sf | 56 | 109 |
| Jul 27 | 146 | $705/sf | 55 | 108 |
| Aug 3 | 129 | $719/sf | 47 | 119 |
| Aug 10 | 128 | $698/sf | 52 | 120 |
| Aug 17 | 123 | $714/sf | 51 | 126 |
| Aug 24 | 118 | $683/sf | 55 | 131 |
| Aug 31 | 115 | $701/sf | 48 | 122 |
| Sep 7 | 107 | $648/sf | 46 | 122 |
| Sep 14 | 116 | $670/sf | 45 | 115 |
The $2,000,000 – $3,000,000 Market:
| | | | | |
| --- | --- | --- | --- | --- |
| Date | NSDCC Active Listings | Avg. LP/sf | Avg. DOM | # of Pendings |
| Dec 30, 2019 | 161 | $744/sf | 106 | 33 |
| Jan 6, 2020 | 147 | $756/sf | 97 | 31 |
| Jan 13, 2020 | 149 | $755/sf | 94 | 27 |
| Jan 20, 2020 | 150 | $749/sf | 89 | 27 |
| Jan 27, 2020 | 154 | $738/sf | 91 | 29 |
| Feb 3, 2020 | 162 | $745/sf | 86 | 33 |
| Feb 10, 2020 | 169 | $753/sf | 83 | 33 |
| Feb 17, 2020 | 166 | $735/sf | 81 | 43 |
| Feb 24, 2020 | 155 | $737/sf | 86 | 58 |
| Mar 2, 2020 | 156 | $731/sf | 78 | 55 |
| Mar 9, 2020 | 157 | $726/sf | 78 | 61 |
| Mar 16, 2020 | 166 | $736/sf | 75 | 57 |
| Mar 23, 2020 | 167 | $730/sf | 79 | 45 |
| Mar 30, 2020 | 163 | $734/sf | 80 | 44 |
| Apr 6, 2020 | 153 | $771/sf | 81 | 37 |
| Apr 13, 2020 | 159 | $765/sf | 78 | 33 |
| Apr 20, 2020 | 153 | $773/sf | 80 | 37 |
| Apr 27, 2020 | 156 | $761/sf | 82 | 29 |
| May 4, 2020 | 165 | $756/sf | 77 | 24 |
| May 11, 2020 | 162 | $772/sf | 77 | 27 |
| May 18, 2020 | 163 | $784/sf | 79 | 31 |
| May 25, 2020 | 157 | $779/sf | 79 | 39 |
| June 1, 2020 | 141 | $787/sf | 79 | 49 |
| June 8, 2020 | 141 | $785/sf | 82 | 49 |
| June 15, 2020 | 148 | $798/sf | 73 | 60 |
| June 22, 2020 | 144 | $810/sf | 78 | 63 |
| June 29, 2020 | 146 | $795/sf | 80 | 61 |
| July 6, 2020 | 136 | $799/sf | 80 | 59 |
| July 13, 2020 | 137 | $824/sf | 77 | 62 |
| July 20, 2020 | 142 | $851/sf | 67 | 72 |
| July 27, 2020 | 144 | $845/sf | 69 | 84 |
| Aug 3, 2020 | 143 | $856/sf | 69 | 87 |
| Aug 10, 2020 | 135 | $831/sf | 69 | 87 |
| Aug 17, 2020 | 137 | $823/sf | 72 | 87 |
| Aug 24, 2020 | 140 | $829/sf | 74 | 81 |
| Aug 31, 2020 | 142 | $842/sf | 71 | 86 |
| Sep 7, 2020 | 133 | $802/sf | 71 | 94 |
| Sep 14, 2020 | 125 | $840/sf | 70 | 96 |
The $3,000,000+ Market:
| | | | | |
| --- | --- | --- | --- | --- |
| Date | NSDCC Active Listings | Avg. LP/sf | Avg. DOM | # of Pendings |
| Dec 30, 2019 | 267 | $1,226/sf | 144 | 28 |
| Jan 6, 2020 | 246 | $1,218/sf | 138 | 29 |
| Jan 13, 2020 | 256 | $1,173/sf | 133 | 28 |
| Jan 20, 2020 | 261 | $1,158/sf | 128 | 27 |
| Jan 27, 2020 | 258 | $1,163/sf | 128 | 27 |
| Feb 3, 2020 | 258 | $1,162/sf | 127 | 32 |
| Feb 10, 2020 | 259 | $1,172/sf | 124 | 37 |
| Feb 17, 2020 | 265 | $1,140/sf | 118 | 36 |
| Feb 24, 2020 | 268 | $1,150/sf | 120 | 39 |
| Mar 2, 2020 | 267 | $1,119/sf | 121 | 37 |
| Mar 9, 2020 | 276 | $1,118/sf | 119 | 38 |
| Mar 16, 2020 | 276 | $1,116/sf | 118 | 40 |
| Mar 23, 2020 | 256 | $1,142/sf | 128 | 40 |
| Mar 30, 2020 | 244 | $1,150/sf | 131 | 40 |
| Apr 6, 2020 | 231 | $1,168/sf | 129 | 28 |
| Apr 13, 2020 | 230 | $1,183/sf | 132 | 25 |
| Apr 20, 2020 | 224 | $1,165/sf | 138 | 26 |
| Apr 27, 2020 | 221 | $1,197/sf | 137 | 22 |
| May 4, 2020 | 235 | $1,194/sf | 131 | 25 |
| May 11, 2020 | 252 | $1,173/sf | 129 | 23 |
| May 18, 2020 | 261 | $1,160/sf | 127 | 23 |
| May 25, 2020 | 271 | $1,156/sf | 125 | 26 |
| June 1, 2020 | 270 | $1,164/sf | 124 | 34 |
| June 8, 2020 | 264 | $1,173/sf | 125 | 39 |
| June 15, 2020 | 270 | $1,158/sf | 121 | 41 |
| June 22, 2020 | 282 | $1,162/sf | 117 | 49 |
| June 29, 2020 | 287 | $1,152/sf | 118 | 47 |
| July 6, 2020 | 288 | $1,145/sf | 115 | 57 |
| July 13, 2020 | 276 | $1,163/sf | 116 | 62 |
| July 20, 2020 | 280 | $1,153/sf | 115 | 62 |
| July 27, 2020 | 286 | $1,183/sf | 116 | 54 |
| Aug 3, 2020 | 288 | $1,186/sf | 112 | 54 |
| Aug 10, 2020 | 285 | $1,177/sf | 113 | 59 |
| Aug 17, 2020 | 294 | $1,178/sf | 107 | 62 |
| Aug 24, 2020 | 290 | $1,181/sf | 107 | 61 |
| Aug 31, 2020 | 296 | $1,185/sf | 106 | 69 |
| Sep 7, 2020 | 297 | $1,180/sf | 117 | 69 |
| Sep 14, 2020 | 304 | $1,215/sf | 116 | 73 |
Weekly NSDCC New Listings and New Pendings
| | | | |
| --- | --- | --- | --- |
| Week | New Listings | New Pendings | Total Pendings |
| Jan 7 | 92 | 24 | 203 |
| Jan 14 | 81 | 35 | 205 |
| Jan 21 | 77 | 33 | 196 |
| Jan 28 | 87 | 47 | 217 |
| Feb 4 | 92 | 45 | 233 |
| Feb 11 | 83 | 48 | 255 |
| Feb 18 | 84 | 52 | 263 |
| Feb 25 | 72 | 39 | 261 |
| Mar 4 | 113 | 52 | 267 |
| Mar 11 | 122 | 63 | 284 |
| Mar 18 | 100 | 64 | 302 |
| Mar 25 | 95 | 70 | 324 |
| Apr 1 | 87 | 53 | 331 |
| Apr 8 | 113 | 58 | 342 |
| Apr 15 | 104 | 59 | 341 |
| Apr 22 | 94 | 67 | 353 |
| Apr 29 | 117 | 74 | 367 |
| May 6 | 113 | 67 | 364 |
| May 13 | 86 | 48 | 362 |
| May 20 | 132 | 55 | 357 |
| May 27 | 100 | 78 | 375 |
| Jun 3 | 109 | 55 | 365 |
| Jun 10 | 106 | 54 | 366 |
| Jun 17 | 94 | 59 | 363 |
| Jun 24 | 97 | 63 | 344 |
| Jul 1 | 89 | 53 | 343 |
| Jul 8 | 81 | 66 | 363 |
| Jul 15 | 115 | 59 | 364 |
| Jul 22 | 89 | 72 | 367 |
| Jul 29 | 102 | 47 | 354 |
| Aug 5 | 102 | 47 | 336 |
| Aug 12 | 96 | 51 | 328 |
| Aug 19 | 89 | 61 | 350 |
| Aug 26 | 86 | 40 | 326 |
| Sep 2 | 67 | 44 | 300 |
| Sep 9 | 75 | 52 | 305 |
| Sep 16 | 102 | 46 | 296 |
| Sep 23 | 67 | 59 | 301 |
| Sep 30 | 68 | 56 | 306 |
| Oct 7 | 76 | 44 | 305 |
| Oct 14 | 78 | 51 | 302 |
| Oct 21 | 71 | 49 | 296 |
| Oct 28 | 76 | 55 | 291 |
| Nov 4 | 87 | 54 | 283 |
| Nov 11 | 61 | 52 | 291 |
| Nov 18 | 69 | 50 | 288 |
| Nov 25 | 60 | 57 | 303 |
| Dec 2 | 19 | 34 | 297 |
| Dec 9 | 58 | 29 | 261 |
| Dec 16 | 45 | 40 | 251 |
| Dec 23 | 32 | 37 | 232 |
| Dec 30 | 16 | 26 | 226 |
| Jan 6 | 56 | 21 | 218 |
| Jan 13 | 76 | 33 | 214 |
| Jan 20 | 71 | 53 | 217 |
| Jan 27 | 62 | 38 | 220 |
| Feb 3 | 75 | 46 | 232 |
| Feb 10 | 97 | 72 | 265 |
| Feb 17 | 82 | 58 | 300 |
| Feb 24 | 70 | 53 | 316 |
| Mar 2 | 79 | 55 | 301 |
| Mar 9 | 106 | 66 | 328 |
| Mar 16 | 83 | 55 | 329 |
| Mar 23 | 59 | 31 | 289 |
| Mar 30 | 63 | 31 | 251 |
| Apr 6 | 57 | 21 | 219 |
| Apr 13 | 48 | 17 | 194 |
| Apr 20 | 63 | 29 | 192 |
| Apr 27 | 79 | 40 | 205 |
| May 4 | 86 | 40 | 208 |
| May 11 | 91 | 48 | 226 |
| May 18 | 95 | 44 | 224 |
| May 25 | 121 | 69 | 266 |
| Jun 1 | 81 | 92 | 332 |
| Jun 8 | 88 | 67 | 338 |
| Jun 15 | 104 | 82 | 374 |
| Jun 22 | 112 | 78 | 409 |
| Jun 29 | 85 | 69 | 402 |
| Jul 6 | 83 | 88 | 418 |
| Jul 13 | 105 | 93 | 447 |
| Jul 20 | 106 | 98 | 466 |
| Jul 27 | 92 | 80 | 475 |
| Aug 3 | 104 | 101 | 477 |
| Aug 10 | 94 | 91 | 483 |
| Aug 17 | 96 | 87 | 490 |
| Aug 24 | 71 | 87 | 482 |
| Aug 31 | 100 | 86 | 476 |
| Sep 7 | 110 | 93 | 491 |
| Sep 14 | 75 | 70 | 481 |