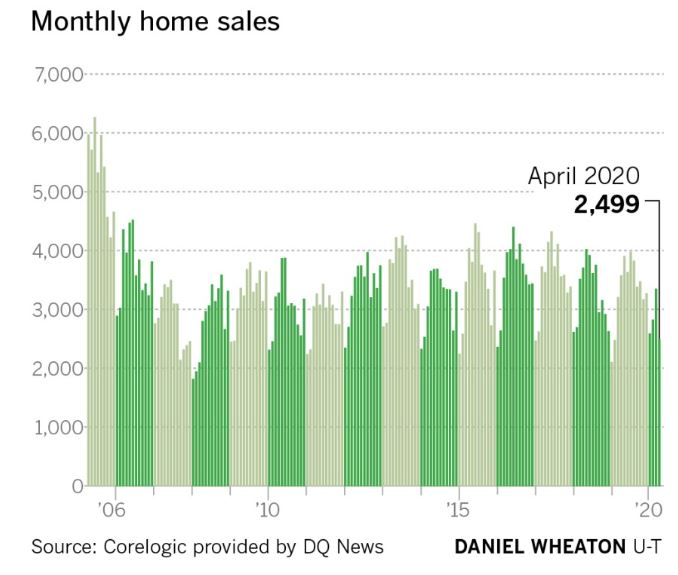 I guessed that NSDCC sales would be down 60% in 2Q20, but April was the low point (sales were down 42% YoY), and May won't be better but June could finish strong.  Quotes from the UT article which is linked at bottom:
"Sellers have taken a bigger step back than buyers," said Jordan Levine, deputy chief economist at the California Association of Realtors.  He said low inventory means many buyers in markets like San Diego are forced to fight it out for a limited number of properties — and continue to push prices up.
Levine said he did not expect a major drop in prices like during the Great Recession because the fundamentals of the market were strong going into this crisis. That is, there weren't a lot of shaky home loans that couldn't be paid back and banks that were over-leveraged. Also, he said governments and banks are more determined to keep people in their homes now than during the recession, when a lot of foreclosed homes flooded the market.
"Institutions realize it is better to try and help folks hang on to these homes and make it through the crisis," he said, "and that will ultimately be a lot cheaper and less damaging to the economy."
At least some analysts and business owners say this might be a good time to buy or sell. Take Josh Stech, the CEO of the San Francisco-based company Sundae. His business buys distressed homes quickly from homeowners and only focuses on houses that need significant work.
Stech said it may actually be a good time to sell. He predicted there would be a big increase in new listings as stay-at-home orders are lifted so buyers would have more options. Also, he said there would be at least some foreclosures coming out of the economic shock of the past few months, also increasing supply.
"The recommendation I've been giving people is not what I've been reading," he said. "My perspective is if you are thinking of selling in the next year or two, this is the time to sell. I would say you will get a better price today than the next year or two."
On the buying side, he also said low interest rates are likely not to be this great forever, so there is also opportunity from that side on the market. At the same time, he said mortgage credit requirements are only getting tougher. The mortgage rate for a 30-year, fixed-rate loan was 3.31 percent in April, said Freddie Mac, down from 4.47 percent at the same time last year.
Home prices were up annually across Southern California by 4.3 percent. Riverside County had the biggest jump, rising 5.8 percent for a median of $412,500.
It was followed by San Bernardino County, up 5.4 percent for a median of $353,000; San Diego County up 4.3 percent for the median of $594,500; Los Angeles County up 3.8 percent for a median of $630,000; Orange County up 2.7 percent for a median of $755,000; and Ventura County up 2.6 percent for a median of $600,000.
Link to UT Article