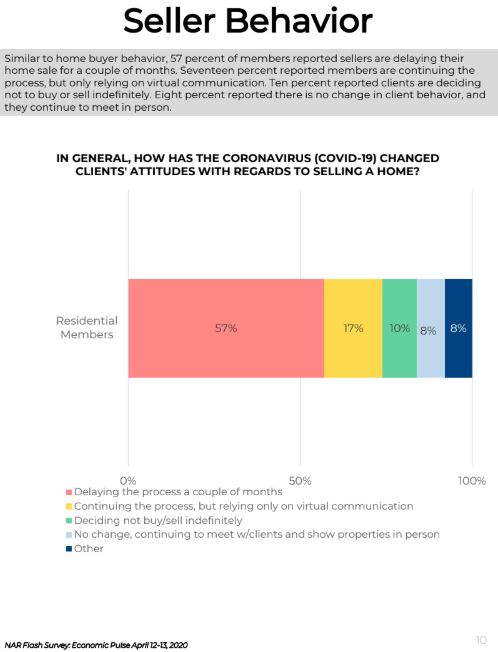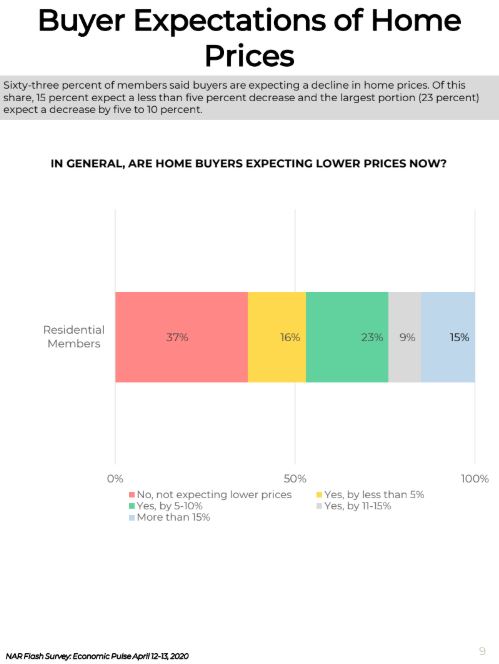 This isn't what buyers and sellers think.  It's what realtors are thinking that their buyers and sellers are thinking, but we aren't mind readers so it's really what realtors think…..who haven't left their house for a month.
Yes, the markets are showing delays. Sixty percent said their clients are pressing pause for a couple of months. Completely stalled, though? No—they're simply simmering, responses show. Consumers and the industry are adapting to the changes, awaiting a hopeful return to normalcy.
"Expect second quarter home sales activity to slow down with the broad observance of stay-at-home orders, but sales will pick up when the economy reopens as many potential homebuyers and sellers indicate they're still in the market or will be in a couple of months," says NAR Chief Economist Lawrence Yun. "Home prices remain stable as deals continue to happen with the growing use of new technology tools. Remarkably, 10 percent of REALTORS® report the same level or even more business activity now than before the economic lockdown."
How else are the markets faring? The survey shows 33 percent (a third of REALTORS®) have not experienced closing delays. For those who have reported delays, these road bumps often happen during the financing, appraisal and home inspection portions of the transaction process.
The key to adapting? Technology. To cultivate new client relationships, surveyed respondents say they will leverage live videos (33 percent), social media (59 percent), e-closing tech (42 percent), e-signatures (77 percent), virtual tours (34 percent), messaging apps (38 percent) and WebEx/Zoom (30 percent).
Link to Survey
Many realtors will end up out of the business – look how many are unplugged: