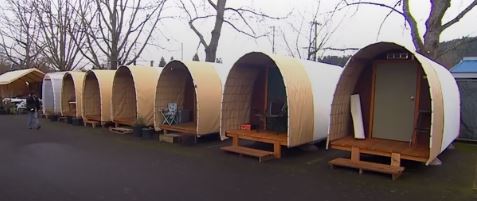 A dynamic new approach to homelessness with roots in settling the West: Conestoga Huts. The trend started in Eugene and the supporters are hoping it will spread through the Northwest.
"This is our hut," said Tracy Joscelyn leading a tour of her hut. She said this temporary shelter is a godsend. "We have a beautiful bed. Most of them have a raised up bed."
It is only 60 square feet of indoor living space. "It's just really warm and awesome and amazing," said Joscelyn. The main thing is it gets her off the streets and into a secure spot. "When you have a place to keep your possessions dry and safe instead of hauling them around, then you can start stabilizing your life and figuring out what the next step is."
The huts look similar to a Conestoga Wagon, the precursor to the Prairie Schooner covered wagons that helped bring settlers west.
"I designed the Conestoga Hut," said Erik de Buhr of the group Community Supported Shelters in Eugene. He is the driving force behind this effort, which is supported by donations.
He said Conestoga Huts are stronger and more permanent than tents and at $2,500, much less expensive than tiny homes which can cost from $10,000-$20,000.
Link to Article