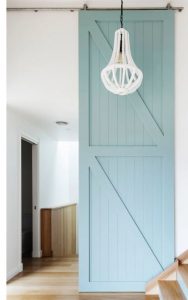 Shag carpet was all the rage in the 1970s. Wallpaper borders and glass bricks were beloved in the 1980s. Along came the blonde wood in the 1990s. And now, these features are some of the first things to go when planning a home remodel.
Wondering which current home design trends are heading to join the others in extinction? We posed that question to real estate agents. Here's what they think is becoming totally overdone:
Barn doors
They started as an interesting accent, but now barn doors are everywhere, says James McGrath, a licensed real estate broker and the co-founder of New York City real estate brokerage Yoreevo.
"Not only have they become overdone, they never really made any sense," he says. "They are terrible at blocking sound since they just hang over the doorway." Plus, barn doors feel mismatched in more modern or contemporary homes, McGrath says.
All gray everything
Gray floors, gray walls, gray kitchen cabinets! Treating gray as a neutral is something that's starting to feel predictable, says Samira Tapia, a Los Angeles-based Realtor with Compass:  "I specifically have buyers asking me not to send them any all-gray listings."
All-white kitchens
Remember black stone countertops—the ones that were trendy at the turn of the century but now look dated now? The all-white kitchen could be headed in that direction, too, says New York City agent Steven Gottlieb of Warburg Realty.
"We are seeing earthier colors now, including dark wood paneling on the cabinetry and stone countertops," he says. He doubts the all-white kitchen will pull down sales, but any trend that has a big moment eventually dates itself.
Read full article here:
https://www.apartmenttherapy.com/decorating-trends-to-avoid-2020-36651863