The big money and heavy competition is causing ibuyers to juice their offerings.
Opendoor will buy your house for cash, they will buy your next house, they have rebates, and now they will even buy your house back within 90 days if you don't like it.
Our belief is that everyone should love the home they just purchased, and we are going to stand behind that. Opendoor guarantees buyers will love the experience and purchase the home of their dreams at the best price, or we will buy the home back within 90 days. This guarantee extends to qualifying homes in Phoenix, Dallas-Fort Worth, and Raleigh-Durham.
There are conditions, of course.  This is the most intriguing (bold added):
In the case of a Third Party Home, we require a copy of a licensed general inspection report, and reserve the right not to offer the guarantee if there is any material defect identified in the report (e.g., foundation issues, roof damage, inoperable HVAC systems, unpermitted additions) or if Opendoor determines the purchase price is materially above the fair market value of the home.  We will contact you within 24 hours of receipt of the report if this is the case.
They don't have experienced, professional agents to represent you.  Nope, just 'tour assistants' who open the door – so how will you know if you paid fair market value?
People will believe what they want to believe, and the company will help sway your opinion by having comments like this on their website: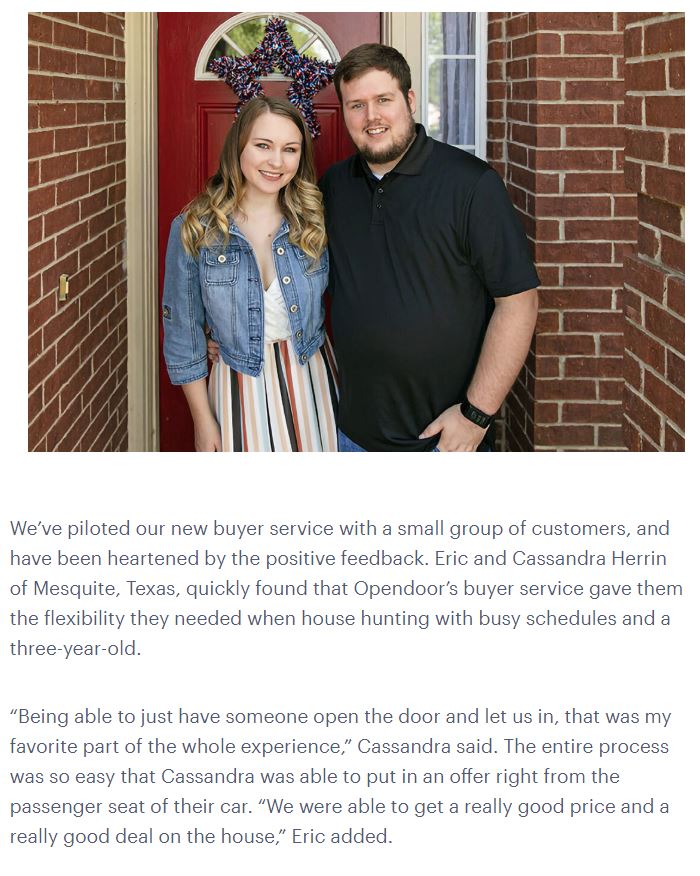 A really good price, and a really good deal?
There will be buyers who jump at that!
These companies don't want to get realtors involved, and the excuse is always because we cost too much.
But these disrupters don't want the customer to know too much – either buyer or seller – so they can skim a few more bucks off them.  It has the potential of creating an artificial market, where the companies tell you what the houses are worth – and you better like it!
https://www.opendoor.com/w/blog/opendoor-launches-new-buyer-service