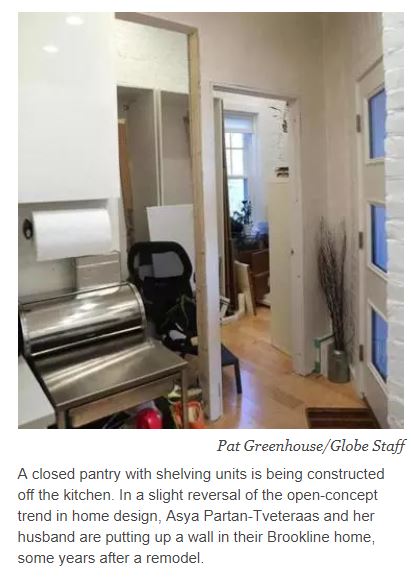 Trends are subject to change! Hat tip to Eddie 89 for sending this in:
When Brenda Didonna was house-hunting the last time around, she knew what she wanted: a home where the kitchen, living room, and dining room were one big, uninterrupted space.
"In our old house," said Didonna, a financial analyst, "I'd come home and make dinner and my husband would be watching TV in the other room, and a good portion of the evening we'd be apart."
She got her togetherness, all right, in a glorious new house in Millbury. Now when she cooks and her husband watches TV, he's in full view. Relaxing. While she works. "Frankly it's annoying," she said. A real estate agent has been called.
"I miss walls," she said.
Wait, what?!? For decades, Open Concept, and the togetherness-loving, friend-filled lifestyle it was supposed to bring, has been a home buyers' religion, the one true way to live. Go to Houzz, the home remodeling site, type in "open concept," and up come 221,569 photos. Over on HGTV, DeRon Jenkins, costar of the popular "Flip or Flop Nashville," will tell you, as he recently told the Globe, that an open floor plan "allows the love to flow."
But now, experts say, people are starting to openly yearn for walls.
"Buyers are moving away from uninterrupted views," said Loren Larsen, a real estate agent with Compass, in Boston, who is hearing from clients who don't want their kitchens — and the dirty dishes — on display.
"The pendulum is swinging back," said Bob Ernst, president of FBN Construction in Hyde Park. "The reality is that life can be loud."
There may be few real estate trends as enduring or as aspirational as open concept — the name realtors and home designers gave to vast living spaces that are all about happy-together time. The message is so powerful that to admit you don't want to live in a house as open as a soccer field is to reveal something shameful:
That you're not a parent who wants the kids RIGHT THERE when you're in the kitchen, your only alone time, or what used to be your only alone time.
That you're not a host relaxed enough to chat with guests while preparing a three-course meal.
That you're not Marie Kondo enough to keep every inch of what used to be three rooms clutter-free at all times.
Link to Full Article