It's out in the open now – Zillow intends to change the game. An excerpt from an interview with Rich Barton where he admits Zillow used agents to get big, and is now deciding how to use that power: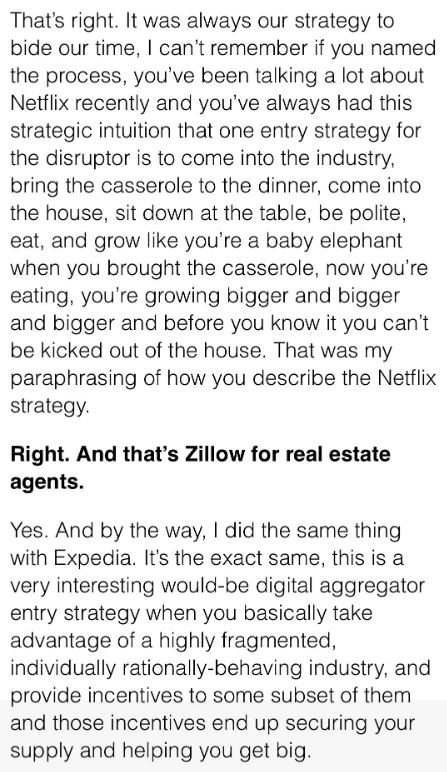 An excerpt from I-News:
Barton also indicated there could be major changes coming to the way that Zillow deals with agents. Thus far, Zillow has derived profits from charging agents to appear on the site, with the idea being that would-be homebuyers will find those agents and end up working with them.
But that's changing.
Barton told Stratechery that he wants to move away from a subscription based model and toward "a success-based compensation scheme that is around what happens when consumers actually close a transaction." That will delay Zillow's revenue but should whittle down the number or people the company is working with and improve the consumer experience.
"It enables us to move from a system of huge floors of people dialing for dollars for advertisers, which is what's happening right now, to a group of people where we are actually interviewing and selecting partners we think can do the best job for our collective consumers," Barton said. "It's a complete mindset switch in the way we are thinking about things."
The comment appears to reference Zillow's Premier Broker Flex Pricing program, which debuted last year.
J.D. Ross, another cofounder at Opendoor, picked up on Barton's comments and opined that Zillow appears to be acknowledging it will ultimately displace real estate agents.
A Zillow spokesperson noted that Ross' comment was merely his interpretation and pointed to another part of the interview where Barton discussed the importance of agents for the company's future business. Barton described Offers as a "fast lane," but added that most consumers will still choose a more conventional "right-hand lane."
"So we see both of these lanes as critical because we want to serve everybody, we want to get everybody to a better place," Barton said, referring to both Offers and the company's agent-based business.